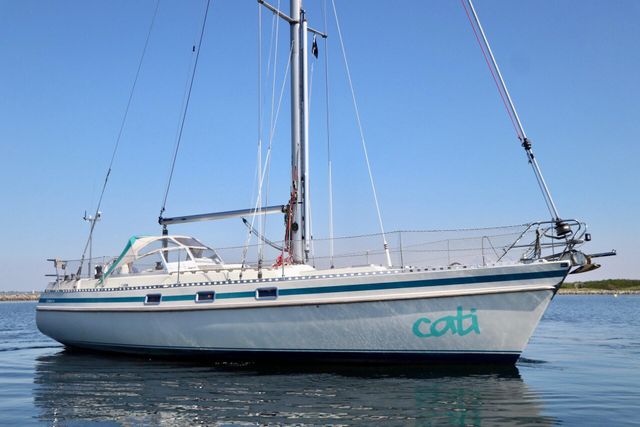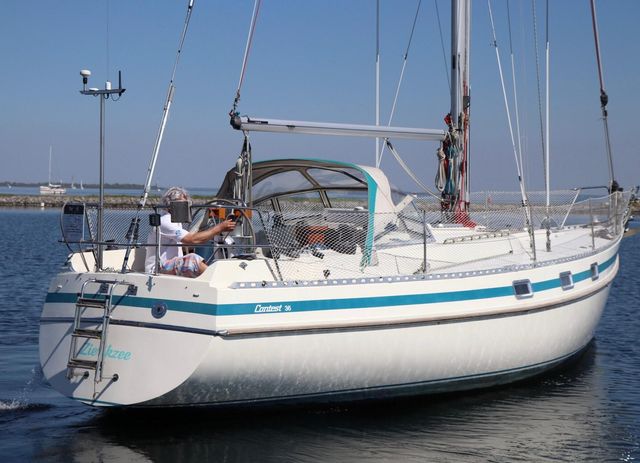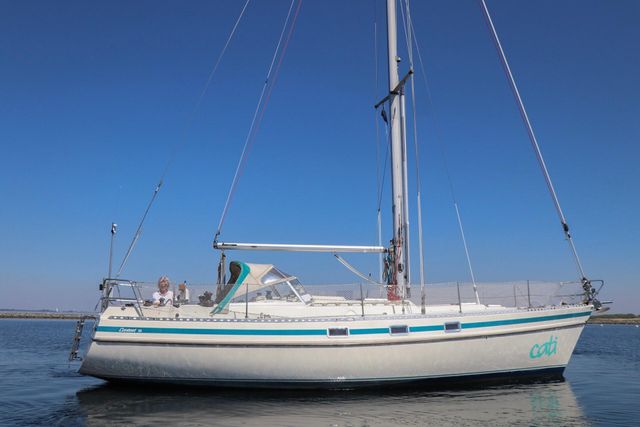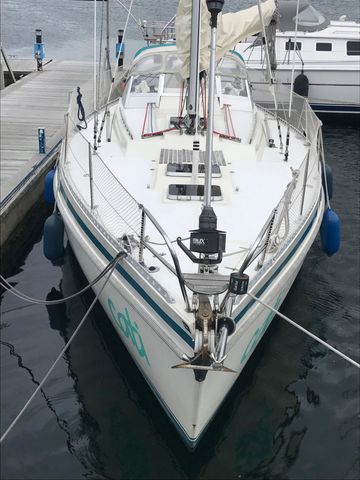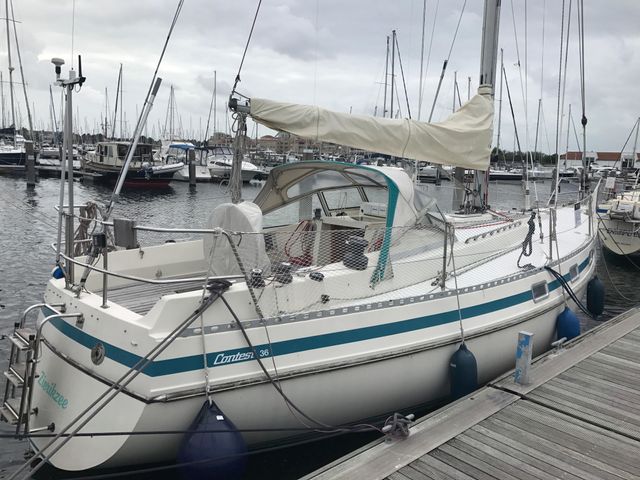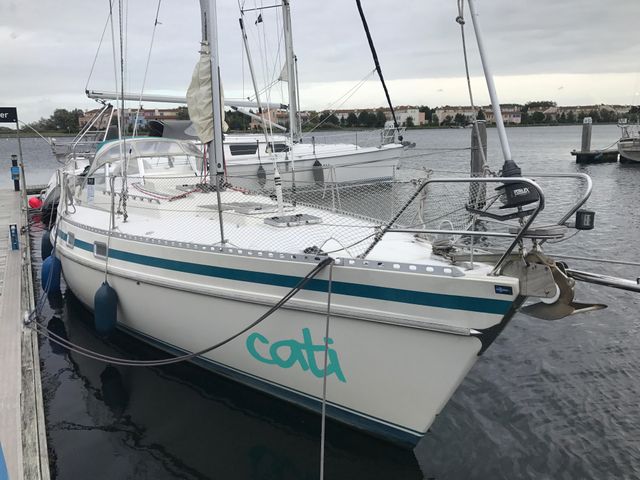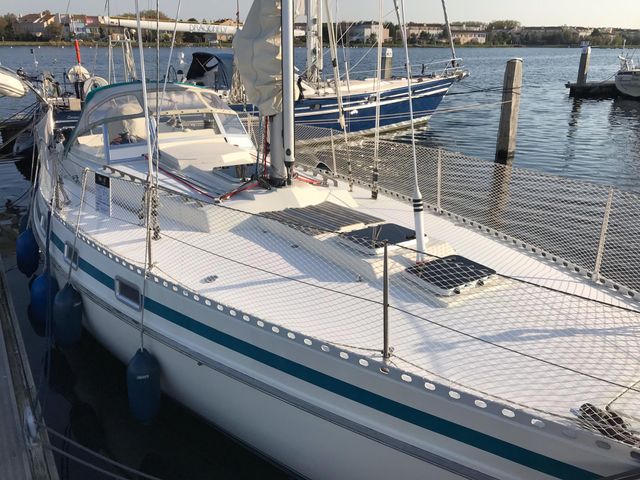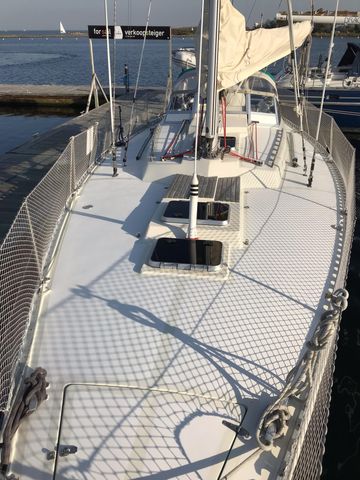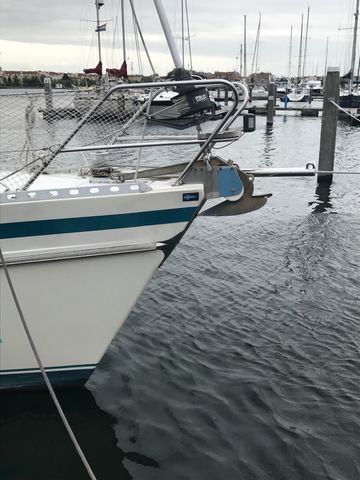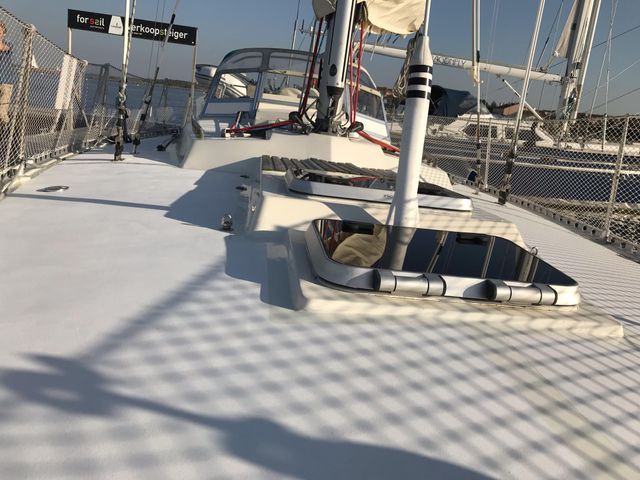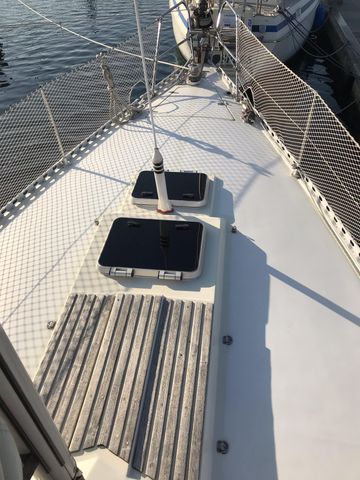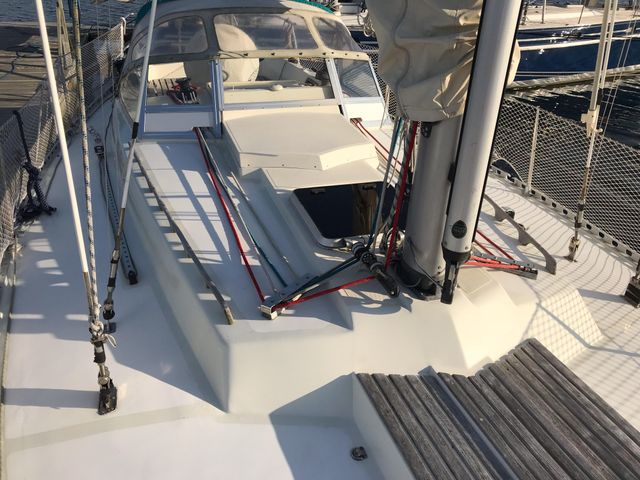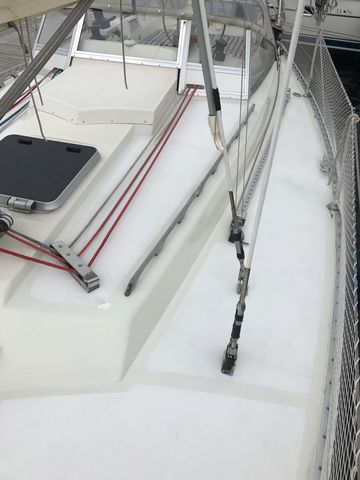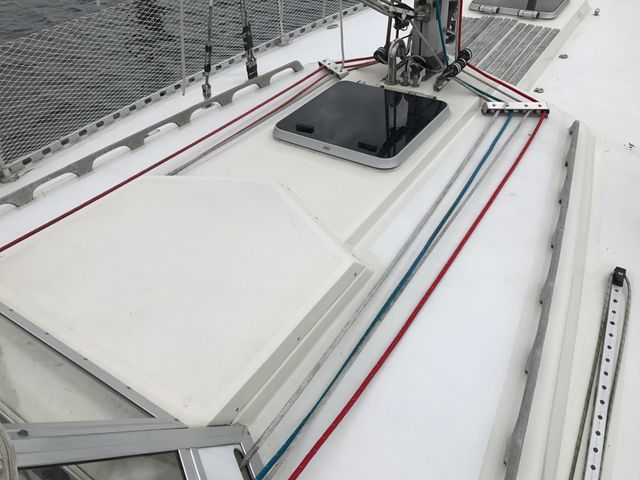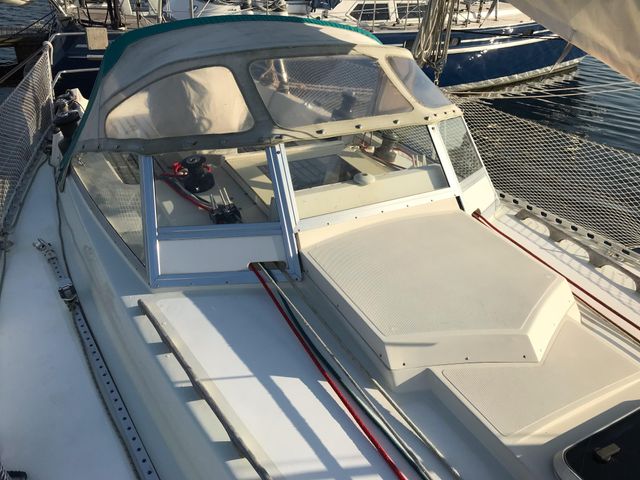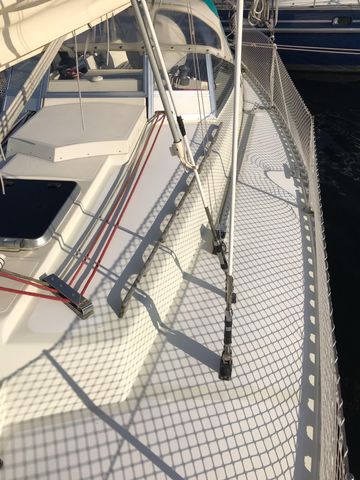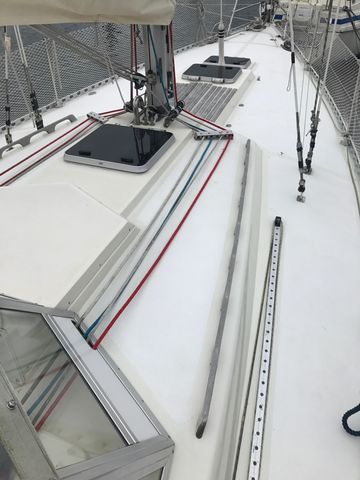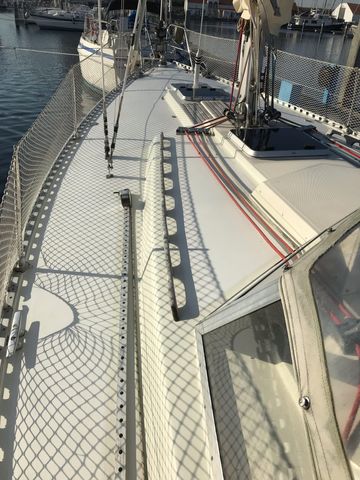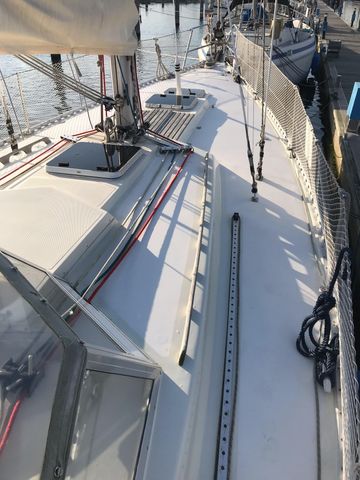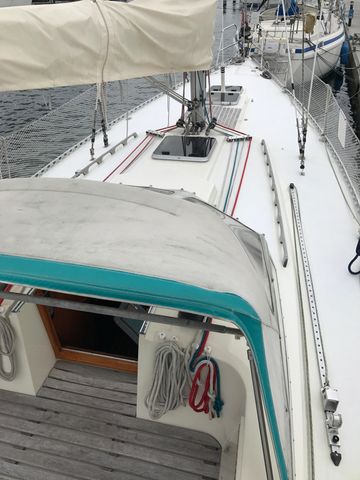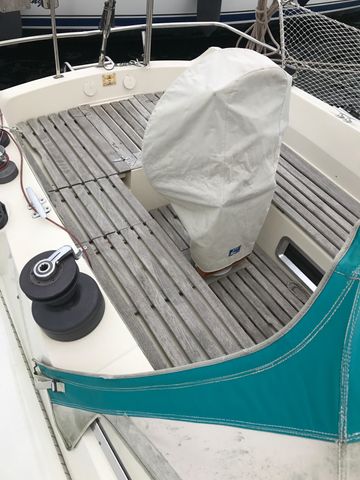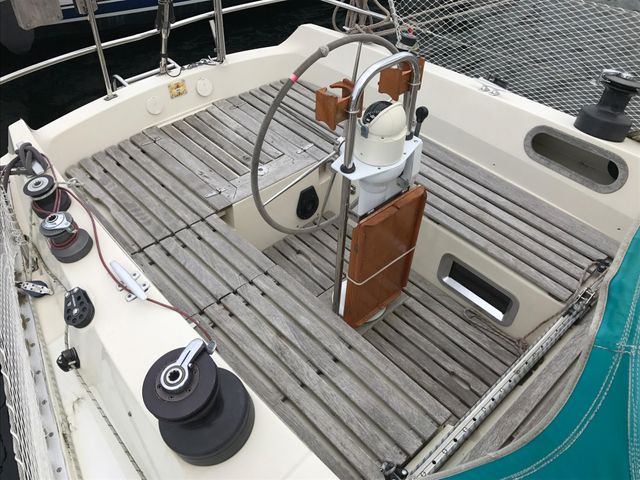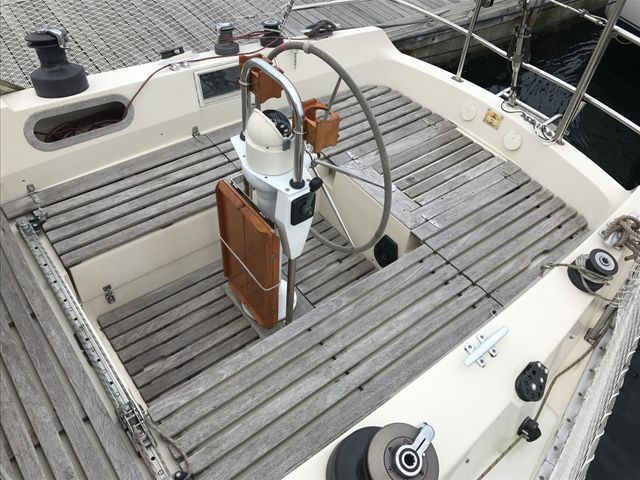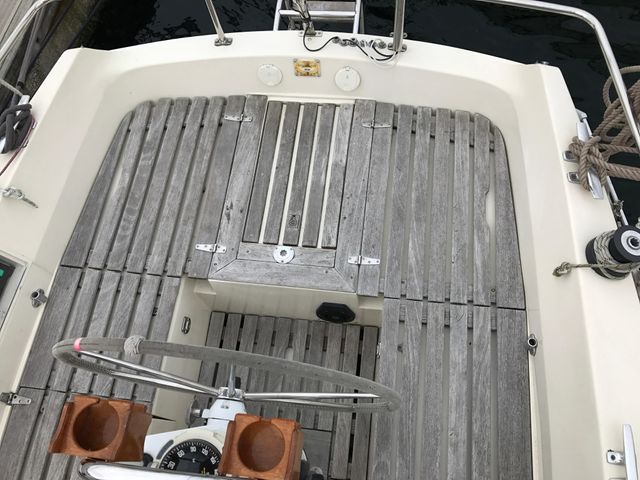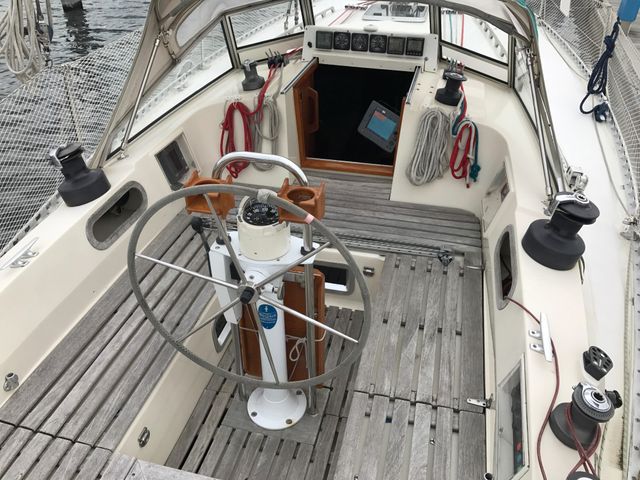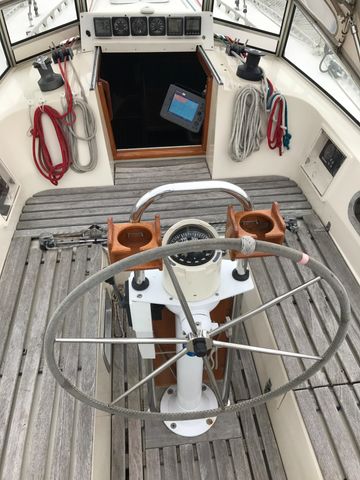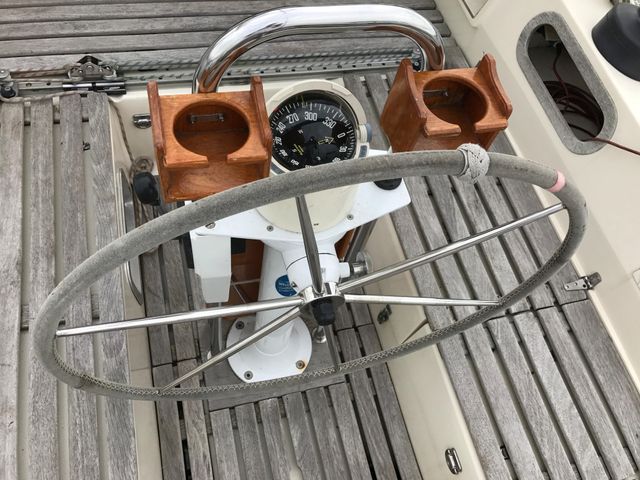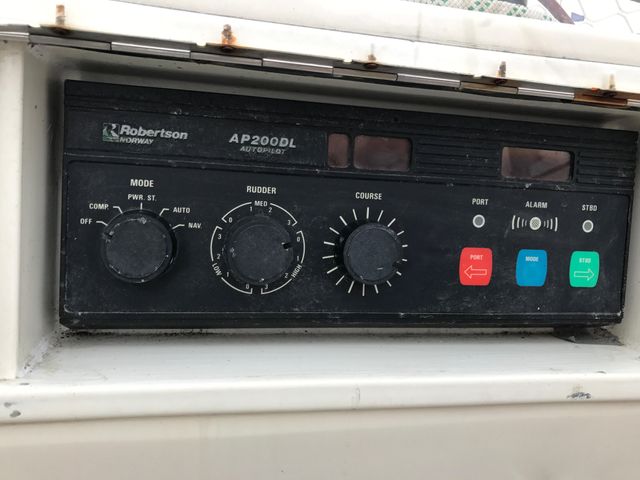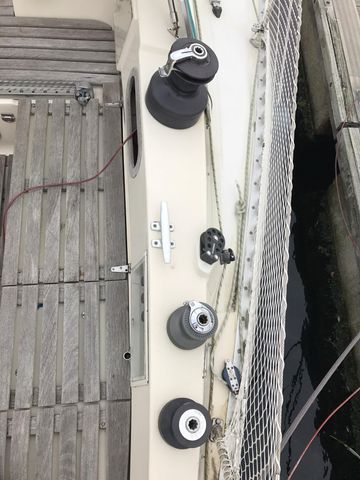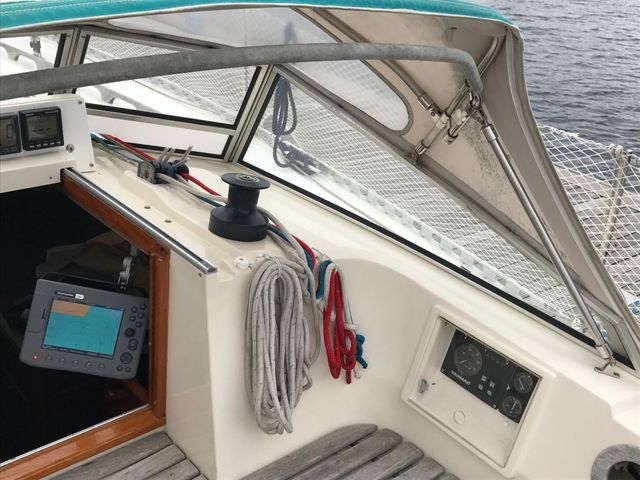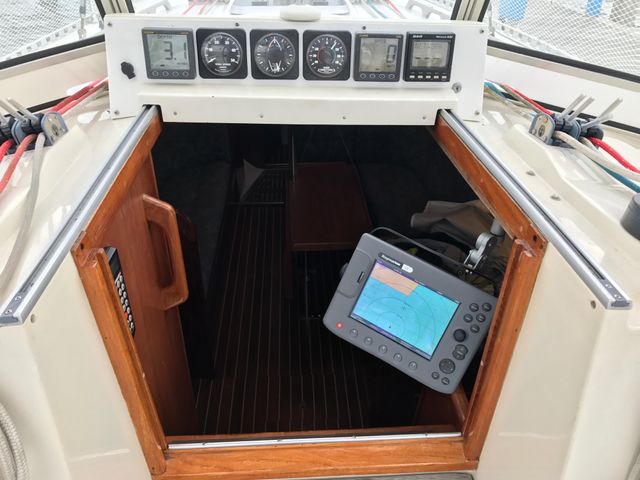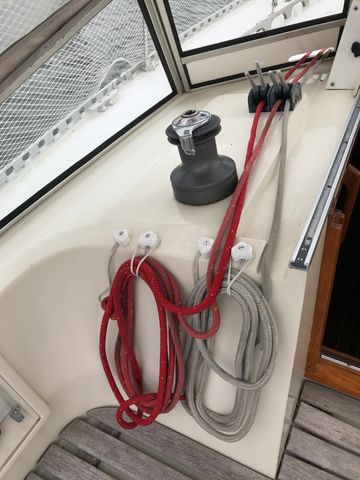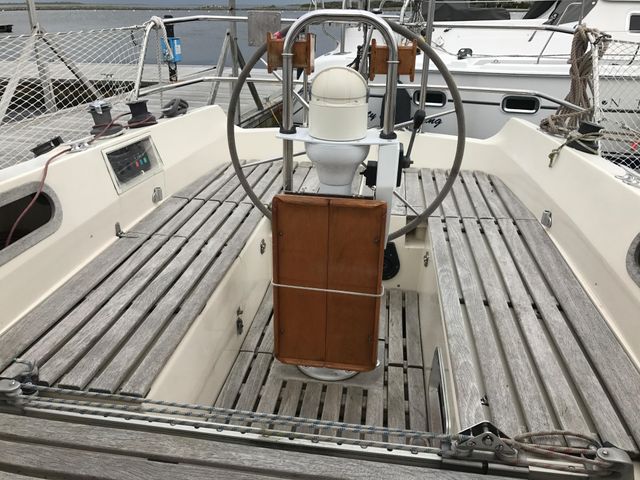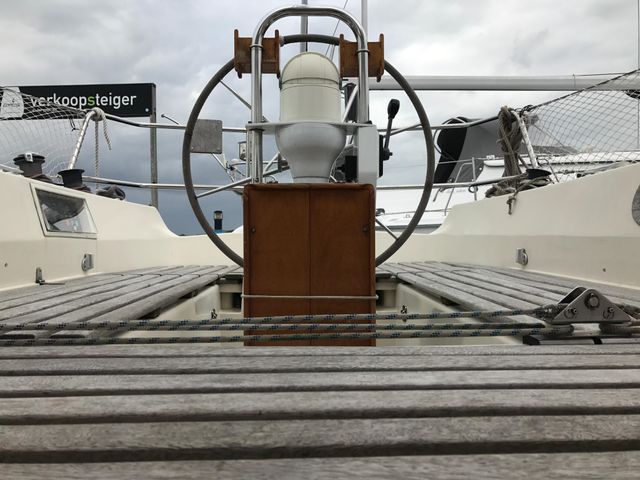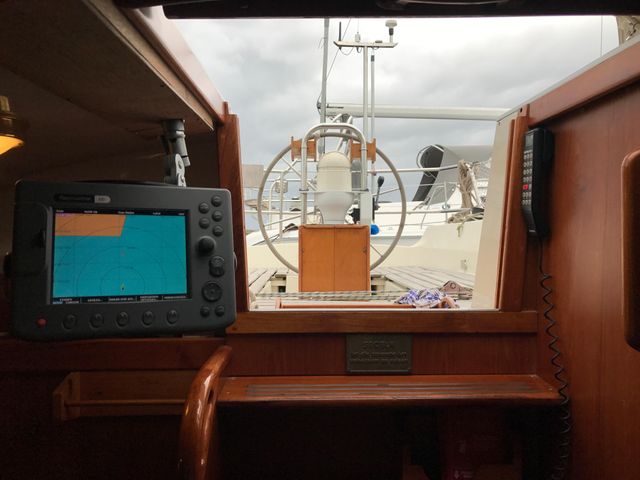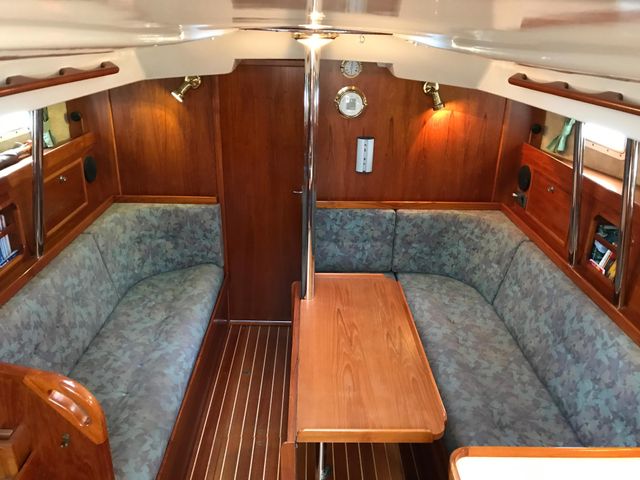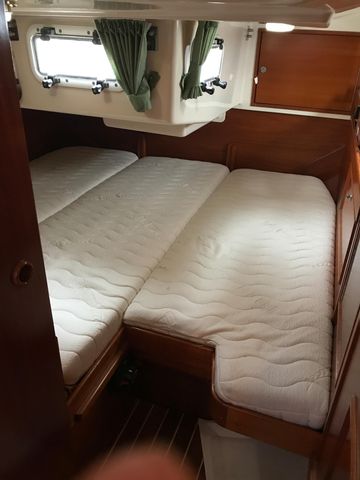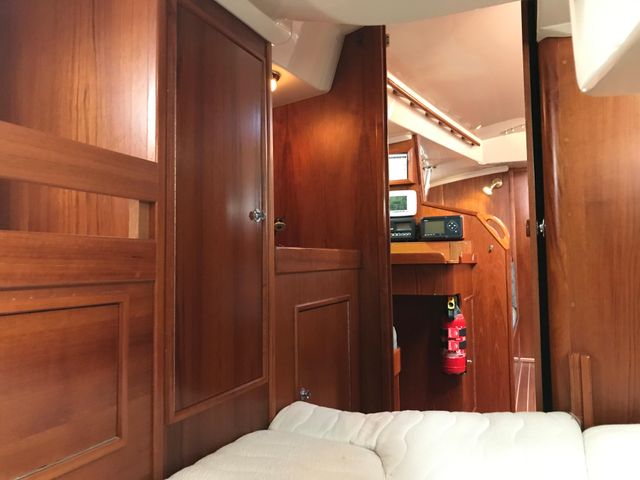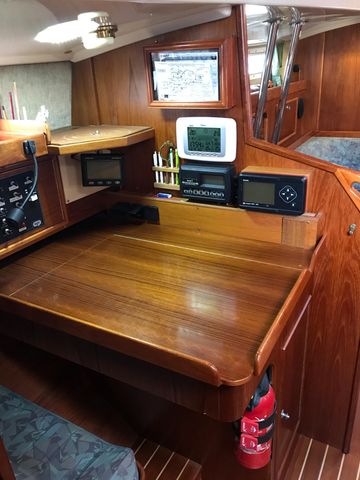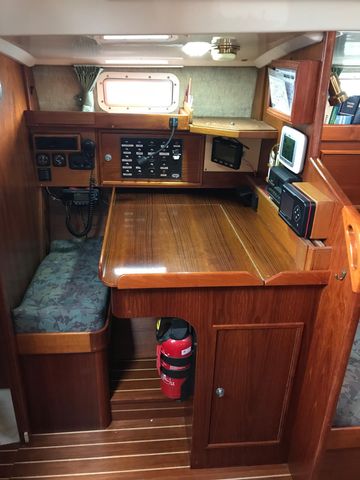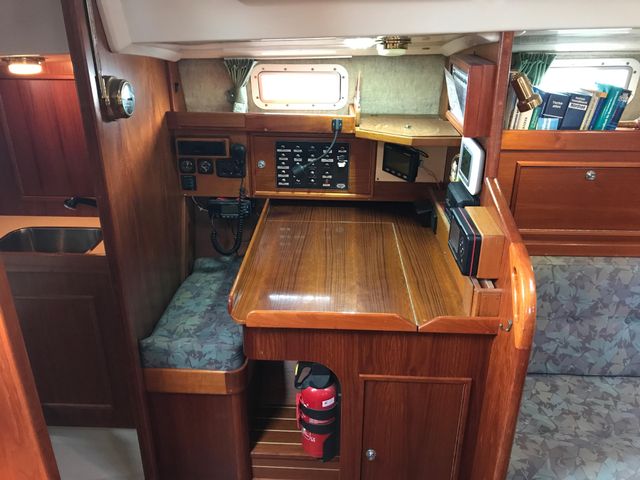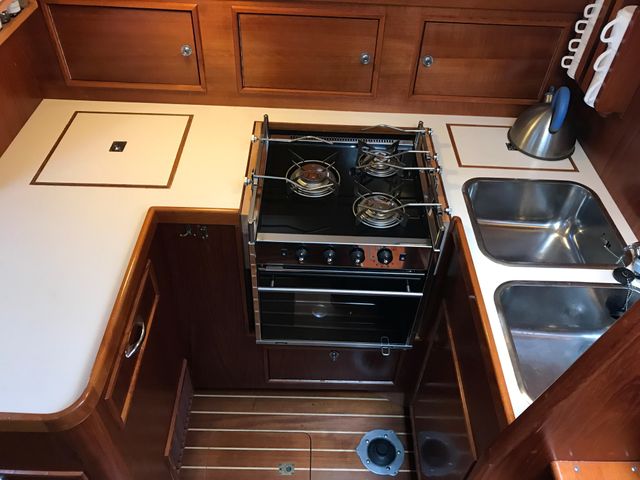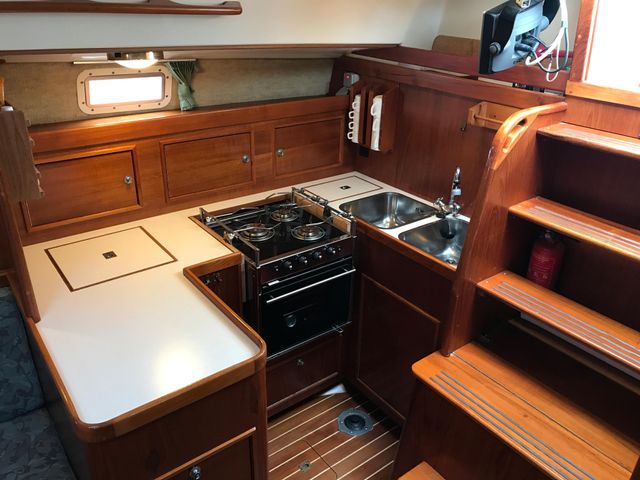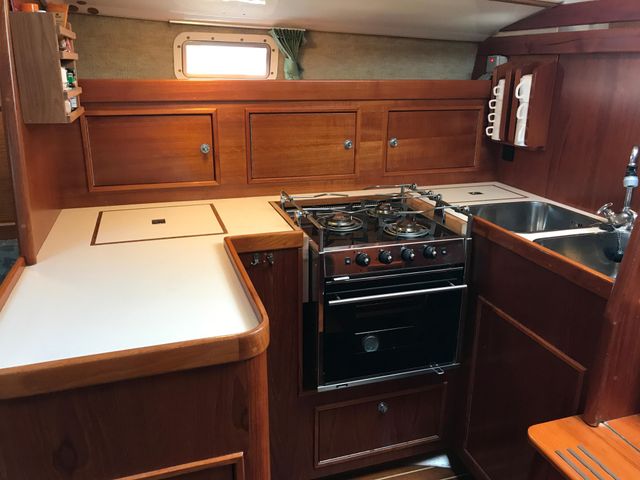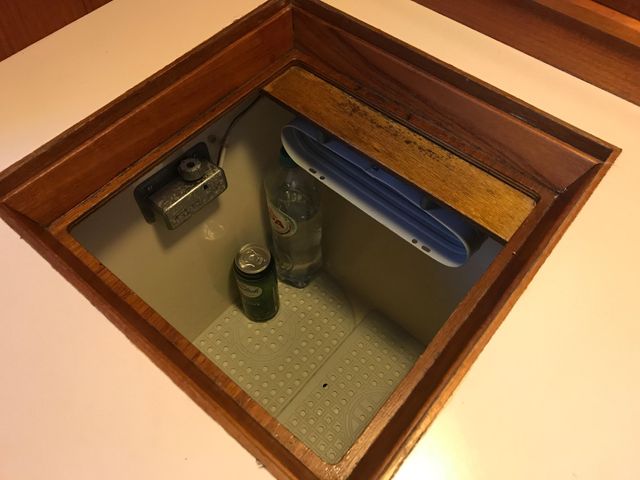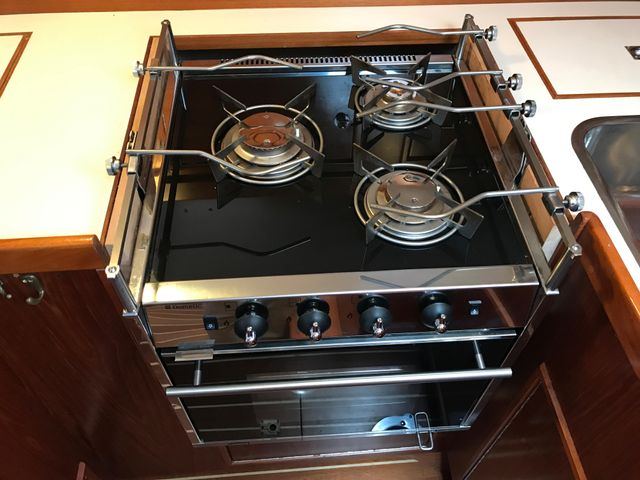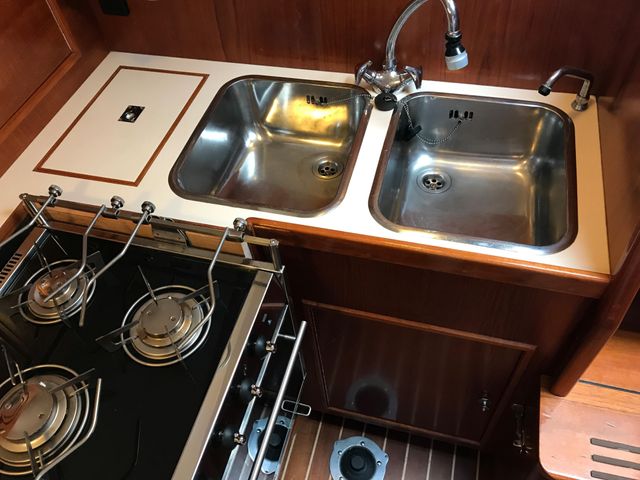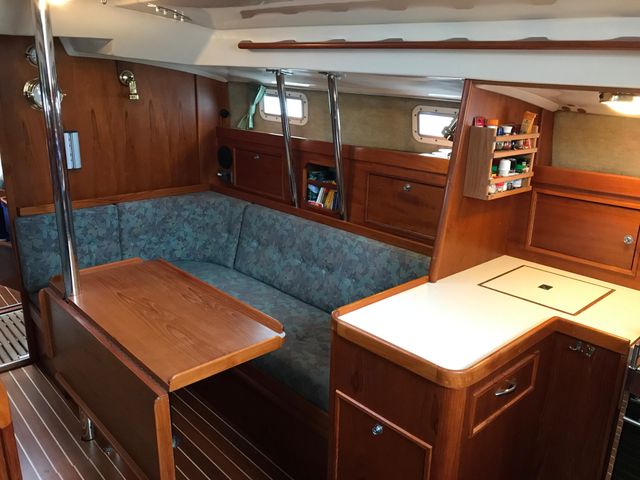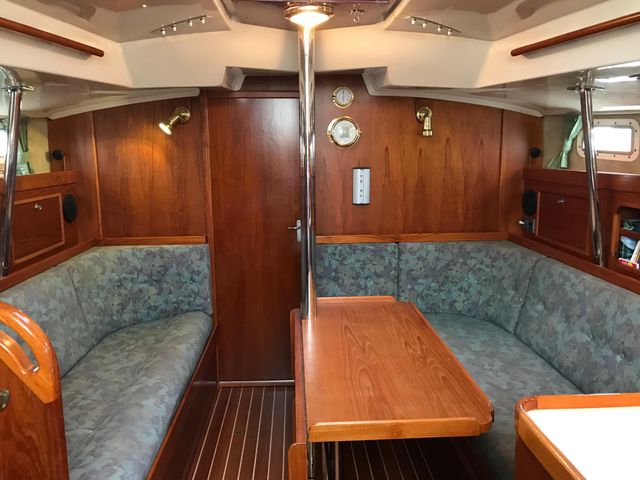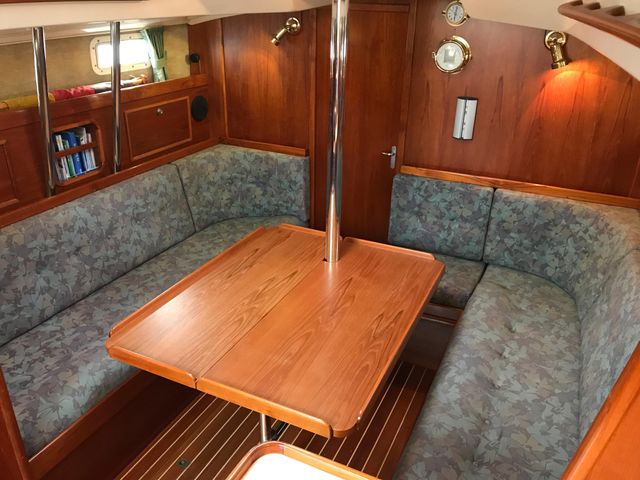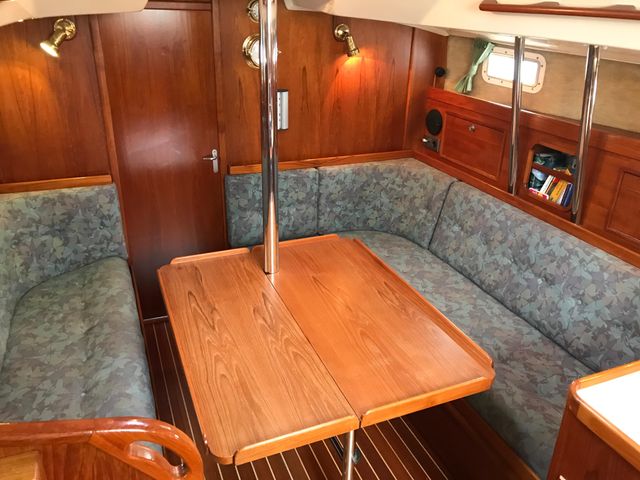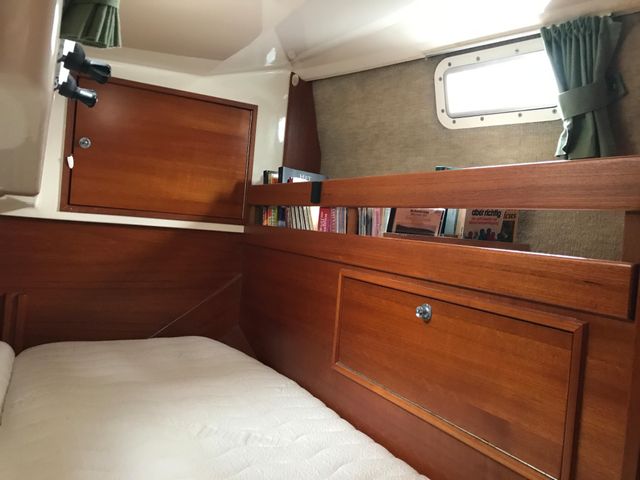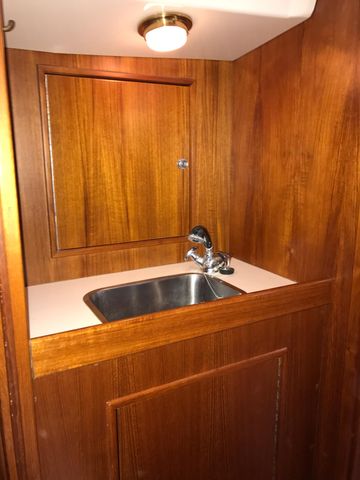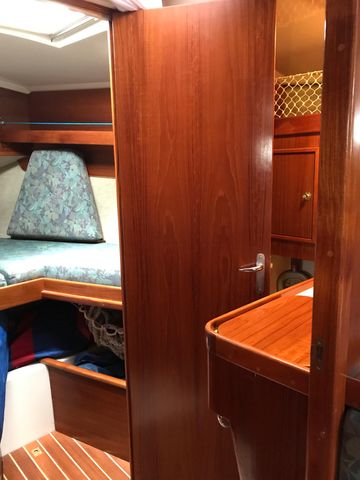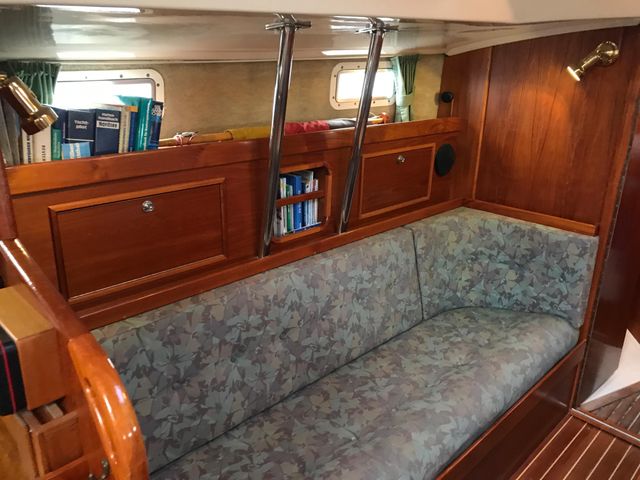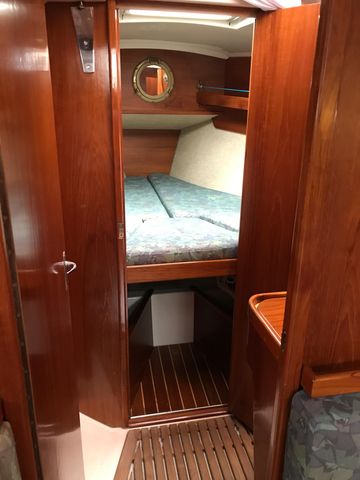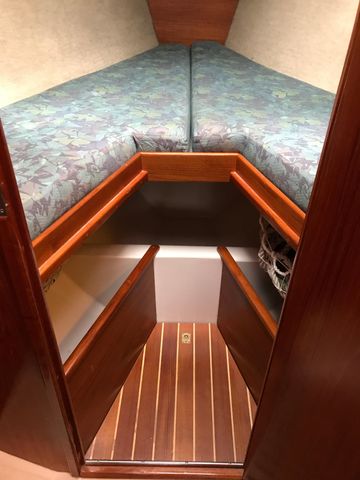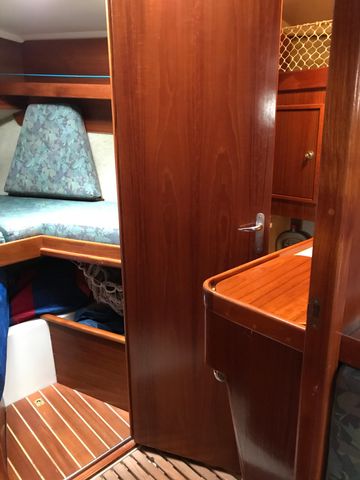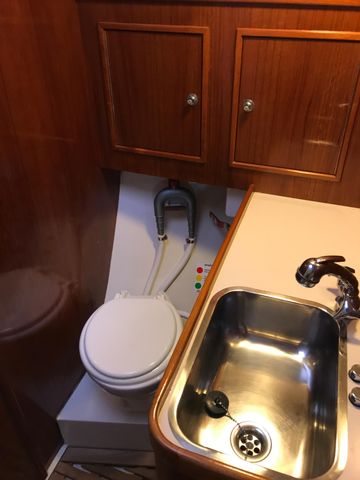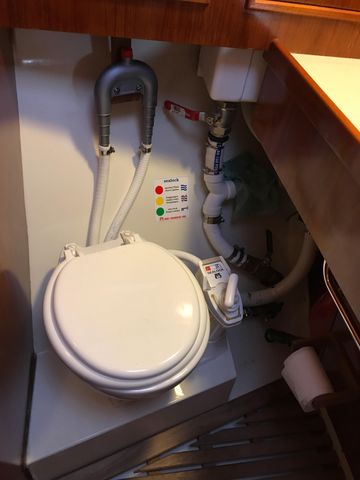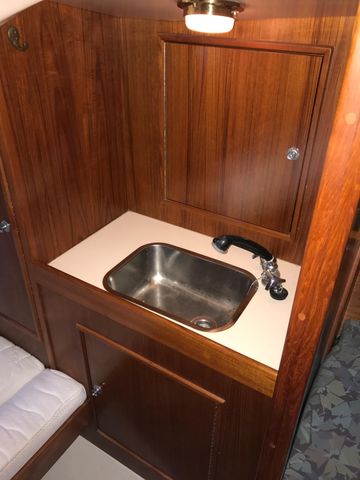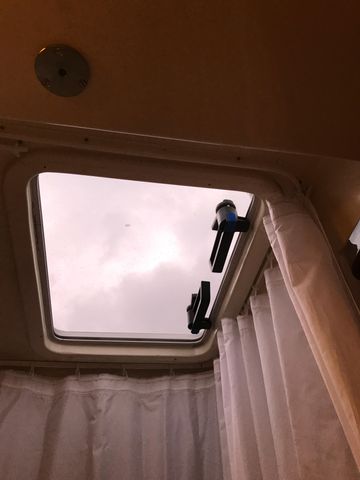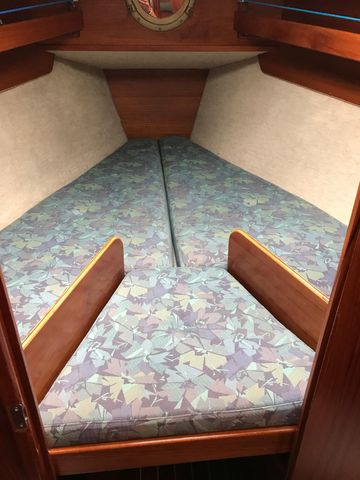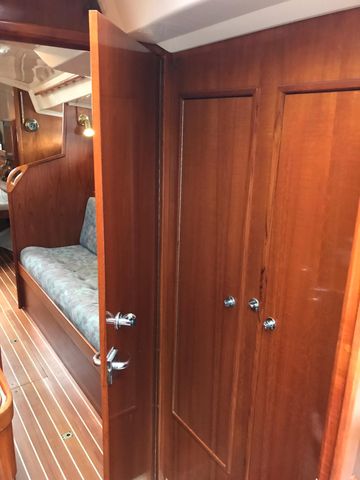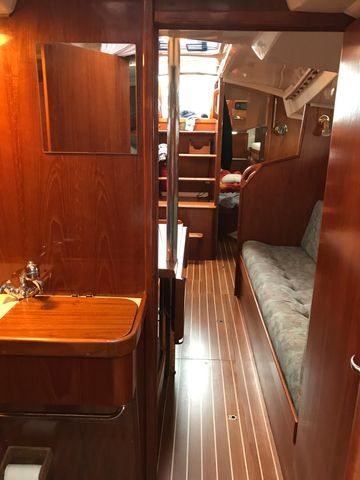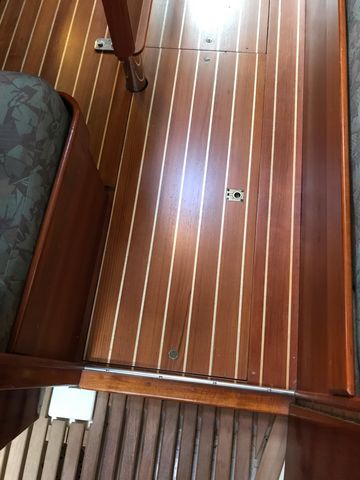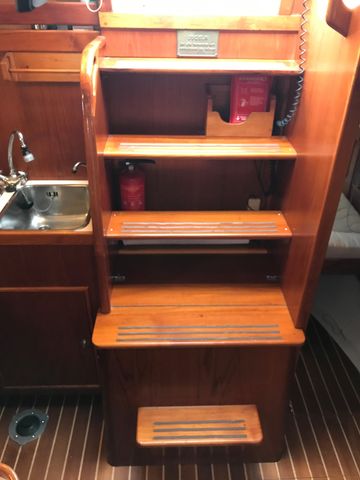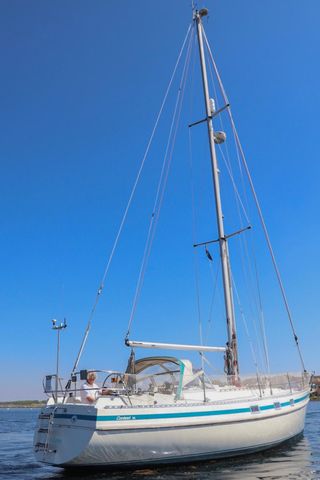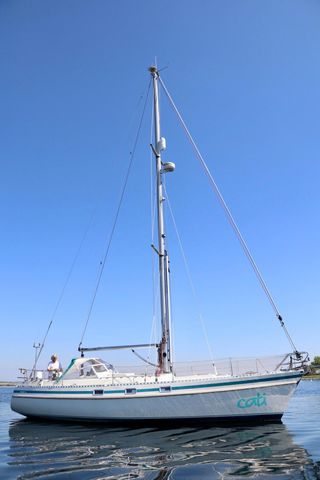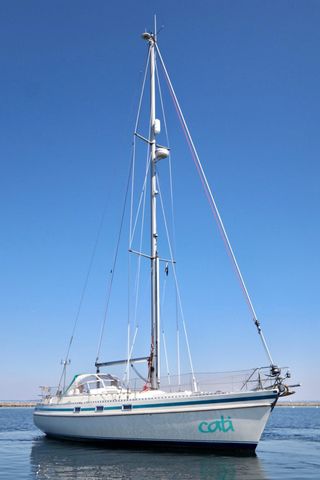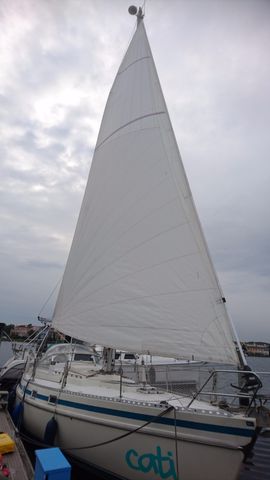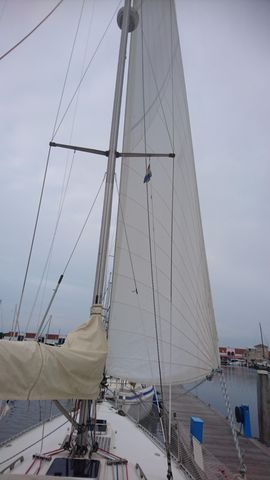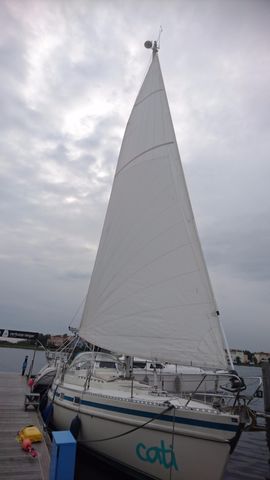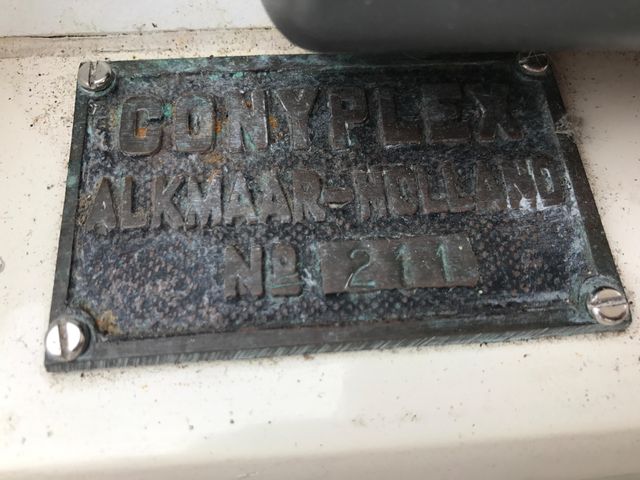 This Contest 36 S is in a very good condition !

1998 : Victron Atlas combi 12V/1100W/40A battery charger / inverter

The seller has invested almost € 57,500 in the yacht sinds 2011;

2011 :
- Yanmar 3JH5E 36 HP/ 26 kW engine (€ 16750) with approx. 810 engine hours
- Gearbox, thrust bearing and constant-velocity joint
- Engine control panel with a RPM counter
- The foundation and bilge of the engine have been fully covered with an epoxy top-coat (after the old engine was removed)
- Waterlock in the engine exhaust system applied to reduce the sound

2012 :
- The teak deck has been removed, the balsa sandwich core has been removed, foam sandwich core has been applied with epoxy and finished with fibre glass, treated with an epoxy coating and painted with a sand colored antislip (total : approx. € 10000)
- Electric Par Max 2.9 shower drain pump
- Waste water tank with a deck drain, a 3-way valve and hoses
- Light in the engine room
- Raymarine C80 radar/chart plotter display

2013 :
- Webasto EVO 3900 Airtop heater (€1600)
- Gisa Tex Med matrasses in the aft cabin (€ 1300)
- New stays (€ 3000)
- Isolated backstay
- LED light : tri-colour masthead light, anchor light, bow and stern lights
- Stainless steel bowsprit (€ 1150)
- Gebo deck hatches (€ 1700)
- Mattrasses in the aftcabin (€ 1300)
- Raymarine C80 radar antenna

2014 :
- Manual R&M toilet
- Cream mainsail cover
- Nasa Radiotelex Weatherman

2015 :
- MCMurdo Smartfind M10 AIS Class B Transponder
- ICOM IC-M423 VHF
- 3 Burner Dometic cooker with an oven and grill
- 4x 100 Ah Semi-traction battery
- Perspex entrance hatch
- Perspex window in the sliding entrance hatch
- Teak interior floor sanded and varnished
- Double switchable Racor dieselfiler installed
- Plugs on almost all mast wires

2016 :
- New hull fittings and sea cocks for the shower drain, intake and outlet of the toilet, sink outlet in the bathroom and sink outlet in the galley
- Diesel tank cleaned
- Laste engine service
- Navionics Europe West Gold CF chart

2017 :
- winter cover serviced

2018 :
-> June 2018 :
- When the yacht was on the hard for painting the underwater hull, they found some osmoses blister
-> July 2018 :
- Approx. 50% of the underwater hull has had a Hotvac osmoses treadment
- A Gelshield treadment was given to the complete underwater hull
- Underwater hull was painted with 2 layers of antifouling
- New anodes
Preis: €54.000
Liegeplatz: Ouddorp, Niederlande
Jahr: 1985

| | |
| --- | --- |
| Eigenschaft | Werte |
| Rumpfmaterial | GFK (Fiberglass) |
| Länge | 10.92 m |
| Breite | 3.55 m |
| Max Tiefgang | 1.45 m |
| Bootsname | Cati |
Specification list Contest 36 S CATI

General

Shape: round bilged
Deck design: polyester with a foam sandwich (2012) and painted with sand colored antislip (2012)
Superstructure: polyester superstructure with a foam sandwich (2012) and painted with sand colored antislip (2012)
Keel : wingkeel
Rudder: rudder with skeg
Steering system: Whitlock pedestal with a stainless steel steering wheel covered with leather, cover for the pedestal, varnished teak cupholder on the pedestal
Windows: Gebo deck hatches (2013 - €1700), perspex window in the sliding entrance hatch (2015) and perpex (with small cracks) port holes in aluminium frames in the hull
Load displacement : approx. 7850 kg
Ballast : approx. 3500 kg
Vertical clearance : approx. 16.5 meter
Boatyard: Conyplex - Alkmaar - The Netherlands
Designer: Dick Zaal
Build Nr.: 211
White polyester hull with turquiose striping
Teak rubbing strake with a stainless steel protection strip
Teak panels on the cockpit seats and on the cockpit floor
Folding varnished teak cockpit table
6x clamp (also amidships)
The underwaterhull has been provided with Gelshield and several layers of antifouling
2011 : The rudder blade was open on the aft. After the rudder blade was completely dry, the crack was treated with epoxy, an epoxy primer system and 2 layers of anitfouling (approx. € 1075)
2012 : The teak deck has been removed, the balsa sandwich core has been removed, foam sandwich core has been applied with epoxy and finished with fibre glass, treated with an epoxy coating and painted with a sand colored antislip (total : approx. € 10000)
2015 : Perspex entrance hatch
2016 : New hull fittings and sea cocks for the shower drain, intake and outlet of the toilet, sink outlet in the bathroom and sink outlet in the galley
-> June 2018 : When the yacht was on the hard for painting the underwater hull, they found some osmoses blister

-> July 2018 :
- Approx. 50% of the underwater hull has had a Hotvac osmoses treadment
- A Gelshield treadment was given to the complete underwater hull
- Underwater hull was painted with 2 layers of antifouling
- New anodes

The current owner has invested approx. € 57,500 in the yacht since 2011

Accommodation

Material, colours: classic teak interior in good condition and a teak floor (sanded and varnished in 2015)
Upholstery, curtains: blue/green cloth upholstery
Cabins: fore cabin, saloon and aft cabin
Berths: 4 - 7 berths
Headroom: approx. 1.95 - 1.80 meter
Toilet: 2014: 1x manual R&M toilet
Shower/bath: 1x bathroom with a sink and a shower (approx. 1.93 meter head room)
Sound system/TV: 2008: Pioneer radio/CD- player with Pioneer speakers and tweeters in the saloon
Cooking device: 2015 : 3 burner Dometic cooker
Oven: 2015 : Domestic oven with grill
Fridge: top loader fridge with a Frigoboat compressor
Freezer: small freezer compartment in the fridge
Heating: 2013 : Webasto EVO 3900 Airtop (outlets in the bathroom, saloon and aft cabin - € 1600)
Spacious galley on starboard with a double stainless steel sink
90% of the interior lights are LED lights
Sink in aft cabin
2012 : Electric Par Max 2.9 shower drain pump
2013 : Gisa Tex Med matrasses in the aft cabin (€ 1300)
2015 : Floor interior sanded and varnished

Engine, electrics, water

Power: 36 HP / 26 kW
Make: Yanmar 3JH5E (engine number E10218)
Year built: July 2010, but was bought and instelled in 2011 (€ 16750)
Engine hours: approx. 810 hours (04-09-2017)
Fuel: diesel
Fuel tank: approx. 140 liter stainless steel tank
Cooling system: 2011: intercooling
Propulsion: gearbox (2011), thrust bearing (2011), constant-velocity joint (2011), stainless steel shaft , Rope Cutter and a fixed 2 blade propellor
Cruising speed : approx. 6.5 knots
Max speed : approx. 7 knots
Fuel consumption: approx. 3.5 L/H
Measuring instruments: 2011: new engine control panel
Voltage: 12 Volt and 230 Volt
Operating panel
Battery: 2015: 4x 100 Ah Semi-traction battery
Battery charger: 1998: Victron Atlas combi 12V/1100W/40A
Alternator: 2011
Inverter: 1998: Victron Atlas combi 12V/1100W/40A
Water pressure system: electric water pressure system. The electric Par Max 2.9 water
pump has been renewed in 2007 and the manual foot pump at the galley has been renewed in December 2010
Warm water: hot water boiler (heated by the engine or by 230 Volt shore power)
Water tank: approx. 290 liter in stainless steel tank
Holding tank: 2012: approx. 30 liter plastic waste water tank with a deck drain, a 3-way valve and all hoses have been renewed
Shore power: fixed shore power connection with a circuit breaker and a shore power cable
Voltmeter: can be read on the B&G Hornet 4
Tachometer: 2011
Water tank gauge: VDO
Fuelmeter: VDO
The engine has been serviced every year
VDO Ampere indicator in the cockpit - next to the new engine panel (2011)
2011 : The foundation and bilge of the engine have been fully covered with an epoxy top-coat (after the old engine was removed)
Autumn 2011 : Waterlock in the engine exhaust system applied to reduce the sound
2012 : Light in the engine room
April 2015 : Double switchable Racor dieselfiler installed
March 2016 : Dieseltank cleaned
Autumn 2016 : Last engine service

Rig and sails

Type: sloop mast head rigged
Spars, stays: aluminium Selden mast and boom, stainless steel stays (renewed in 2013 - € 3000) with a double set of spreaders and a manual backstay adjuster
Winches: 2x Enkes 28ST, 2x Enkes 18, 1x Enkes 22 halyard winch, 1x
Lewmar 30 ST halyard winch and 1x Lewmar 16ST (winch for furling jib system)
Sails material: white Dacron sails
Main sail: 1997 : Van Vliet Sails : mainsail
Main sail reefing system: 2x reef
Genoa: 2005 : Van Vliet Sails : furling genoa
Genoa reefing system: Furlex furling system
Fore sail: furling Jib
Spinnaker: spinnaker with a snuffer (snuffer has some small rips)
Aluminium spinnaker pole
Aluminium deck gear
Dutchman Flacking system (for mainsail)
Recent cream genoa cover (Rocon) with a few small rips caused by a storm in the summer of 2017
2013 : Isolated backstay
2013 : Stainless steel bowsprit (€ 1150)
2014 : Cream mainsail cover

Navigation and electronics

Navigation lights: tri-color mast head- (2013 - LED light), anchor- (2013 - LED light), steam-, deck-, bow- (2013 - LED) and stern- (2013 - LED) lights
Compass: 2002: Plastimo Olympic 135 compass on the pedestal
Log/speed: 1998 : Navico Clipper (not functioning)
Depth: 1998 : Navico Clipper (sometimes not working)
Wind: B&G Hornet 4 (not functioning - top-unit is missing)
Autopilot: 1x Robertson Ap 200 DL Sail and 1x spare Robertson AP 200 DL Sail panel
Radar: Raymarine C80 radar/chart plotter (display from 2012) on a rotating holder at the entrance. The 2 kW radar antenna has been mounted in the mast in 2013
GPS: in both chart plotters and 1x Philips AP Navigator MK8 GPS (not functioning)
VHF: 1x ICOM IC-M423 VHF (2015) connected to the Geonav 7 chart plotter and 1x Shipmate RS 8300 at the entrance (connected to the emergency antenna on aft deck)
Weatherfax/Navtex: July 2014 : Nasa Radiotelex Weatherman
Chart plotter: Raymarine C80 radar/chart plotter (display from 2012) on a rotating holder at the entrance and connected to the AIS and 1x Genoav 7 (2005) in the cockpit
Charts, pilots: 1x Navionics Europe West Gold CF (last update in April 2016) and 1x Navionics 25XG Sweden South - Germany
Plastimo clock and digital Wempe Barometer (not functioning, but can be repaired) on the main bulkhead in the saloon
VDO Barometer at the charttable and Quartz clock in the fore cabin
Mebus weatherstation at the chart table
2015 : MCMurdo Smartfind M10 AIS Class B Transponder
2015 : Plugs on almost all mast wires

Equipment

Anchor: 1x CQR anchor with anchor chain
Windlass: 1996 : electric Vetus windlass
Fenders, lines
Covers: winter cover in two seperate parts (serviced in September 2017)
Sprayhood: fixed windscreen in an aluminum frame with a cream colored (aft is turquoise) sprayhood (old) with a stainless steel handgrip covered with leather and a cockpit cover (old)
Swimming ladder: stainless steel swimming ladder with teak steps
Sea rails, pushpit, pullpit: stainless steel stanchions, pulpit, pushpit and double wired
stainless steel guard rails (top one renewed in 2013)
2003 : Shower in the cockpit (hot and cold water)

Safety

Radar reflector: radarreflector (almost in mast head)
Bilge pump: manual and electric bilge pump with a bilge alarm (red indication light)
Fire extinguisher: 2x fire extinguisher (need to be checked)
Gas bottle locker: gasbun
Emergency tiller
Folding safety eyes in the cockpit for a Life-Line
disclaimer
The Company offers the details of this vessel in good faith but cannot guarantee or warrant the accuracy of this information nor warrant the condition of the vessel. A buyer should instruct his agents, or his surveyors, to investigate such details as the buyer desires validated. This vessel is offered subject to prior sale, price change, or withdrawal without notice.
Additional Contact Information

If you would be interested in this yacht, please contact Jan-Ward van Dantzig !

On request we can sent you the very detailed and complete specification list of this yacht.

You will also receive a link to all available (large) pictures of this yacht.

Looking forward to your request and also to welcome you aboard of this yacht !

Our For Sail South office in OUDDORP is 7 days a week open between 10 AM and 5 PM.