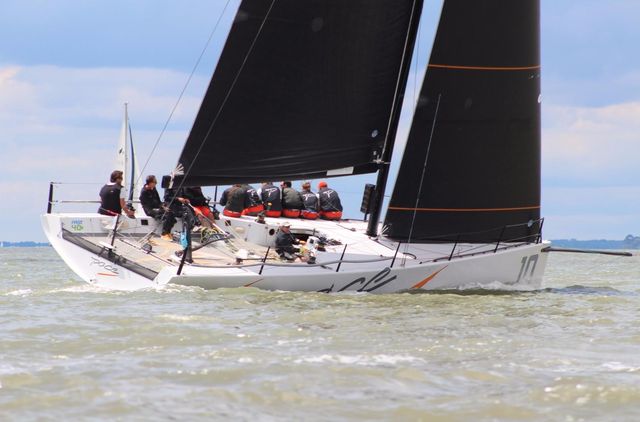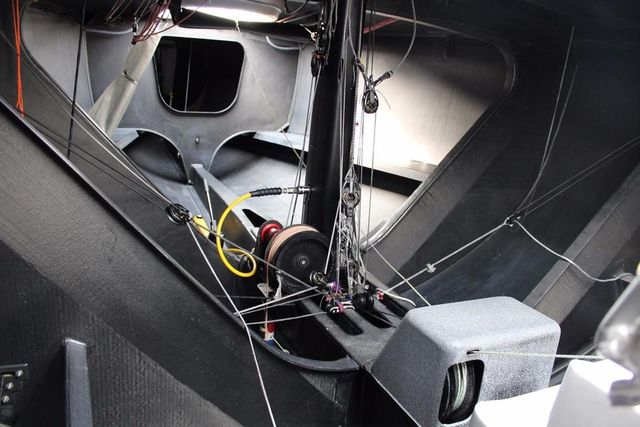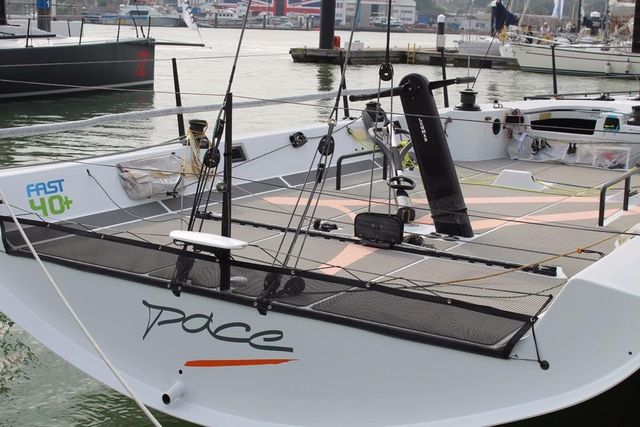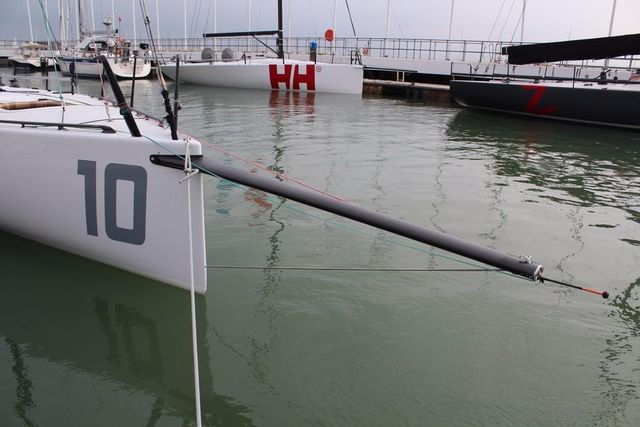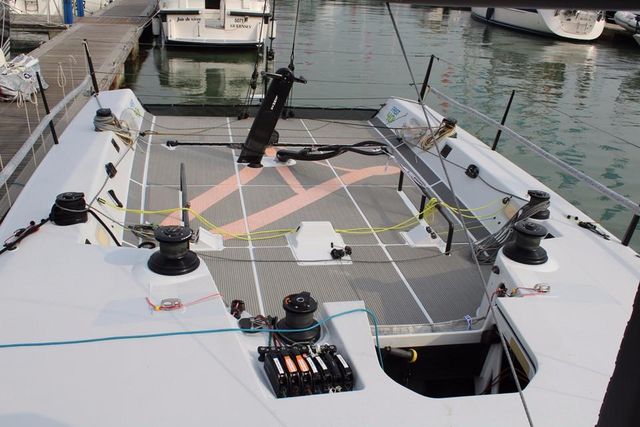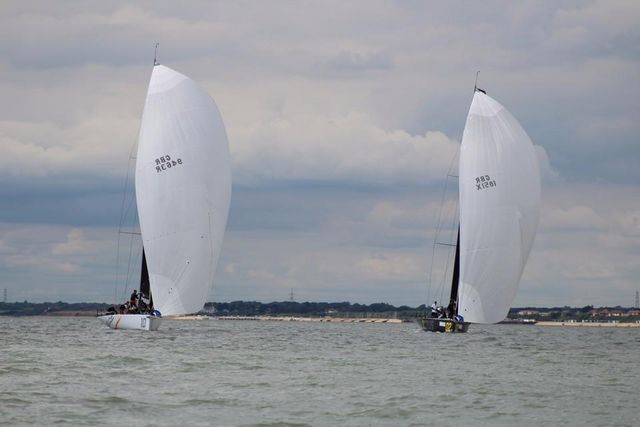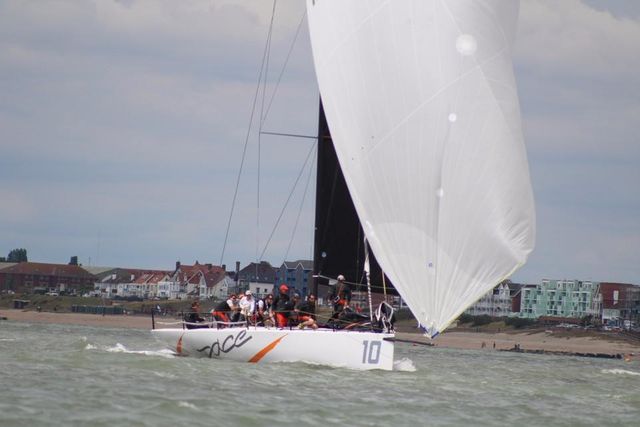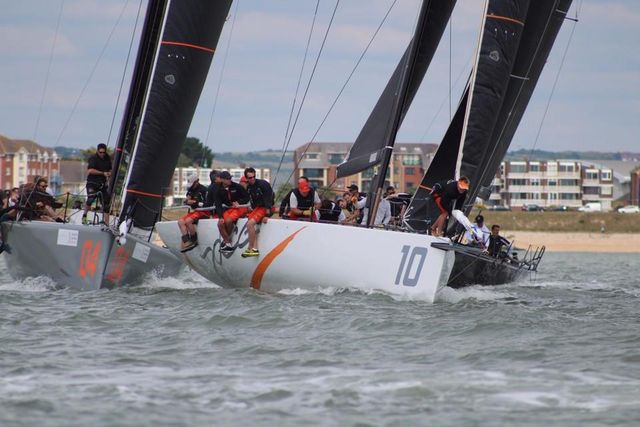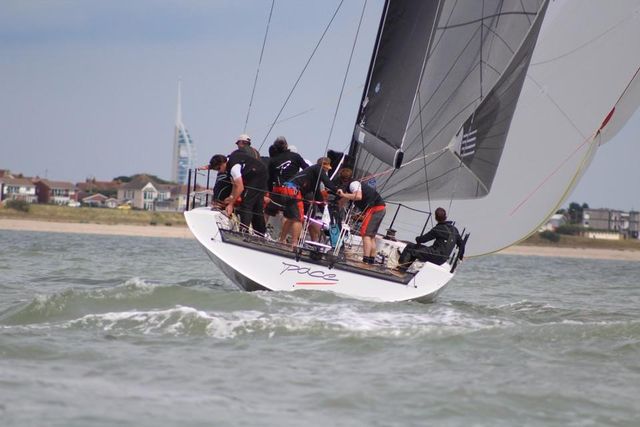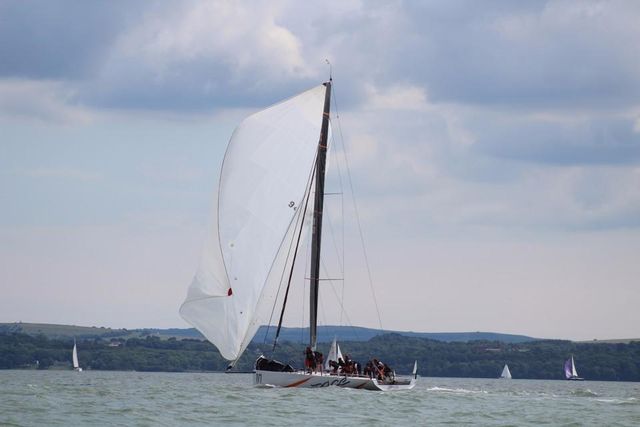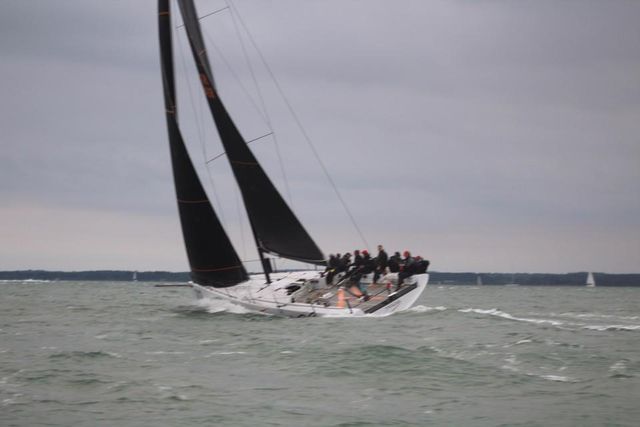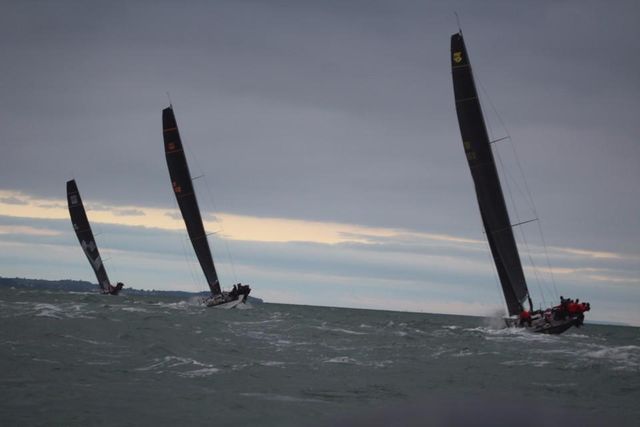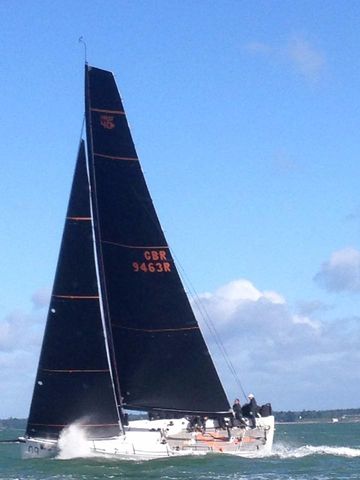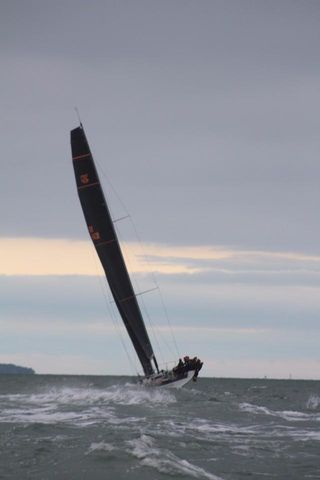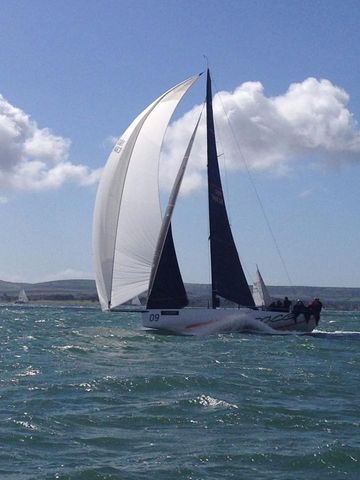 PACE is an incredibly well sorted and maintained modified Ker 40 . She has many modifications to the original design making her significantly faster, but without incurring a large handicap increase. National Champion in the Fast 40 fleet, she wants for nothing, with a fresh wardrobe of sails and turnkey. Perfect yacht for the Fast 40 fleet or any IRC / ORC regatta.
Preis: €513.069
Liegeplatz: Cowes, Vereinigtes Königreich
Jahr: 2016

| | |
| --- | --- |
| Eigenschaft | Werte |
| Hersteller | McConaghy Boats |
| Konstrukteur | Ker Yacht Design |
| Rumpfmaterial | Komposit |
| Länge | 12.19 m |
| Breite | 4.18 m |
| Verdrängung | 4,024 kg |
| Max Tiefgang | 3 m |
| Anzahl Motoren | 1 |
| Motorfabrikat | Lombardini |
| Treibstoff | Diesel |
| Motorisierung | Innenbord |
| Bootsname | PACE |
| Leistung | 10.3 kW |
| LüA | 12.6 m |
Construction

Ker 40+ has been designed and built in accordance with requirements of ISO 12215 Category A.
DVN/GL Approval (Germanischer Lloyd).
Hull, Deck & Superstructure Construction:
Carbon Fibre/Foam/Epoxy, with pre-preg upgrade to accurately control build weight.
Below waterline refaired and refinished by Alpha plus on arrival in UK.
Various factory supplied mouldings, galley, plumbing and other bits removed for racing including the heads compartment. Simple to refit for offshore requirements.
Keel & Rudder:
2 x Keel fins for the boat, Mk 2 solid steel machined fin, Mk 3 Fabricated hollow fin (currently on the yacht). Both with composite and trailing edge fairings.
Rudder is light weight upgraded option pre preg carbon modified design and cord length.
Machinery

Engine & Gearboxes:
Lombardini 502 14hp engine, in aluminum.
Lombardini saildrive.
Maintenance & Performance:
Systems install and commissioning by Alpha Plus UK Ltd. with extensive modifications all through the boat history and works done is documented and is available on request.
Propulsion & Steering:
Gori racing folding prop.
Electrical Systems

Full house rewire to lighten all battery wiring systems and improve.
Battery Banks:
Full lithium ion battery upgrade with 3 x house batteries and 1 x engine start.
Plumbing Systems

All plumbing removed to reduce weight.
Bilge Pumps:
Custom bilge pump installation with carbon bracketry, 7 pumps.
Tankage

Fuel:
Allisport aluminium lightweight fuel tank.
Fuel system removed to reduce weight.
Navigation Equipment

B&G H 5000 systems with 2 cockpit GFD, 5 20/20.
On deck WIFI.
G tack under deck water proof computer, no deck screen supplied with the yacht.
Deck Equipment

Rig:
2016 Southern Spars, High Modulus, grand prix mast and boom.
Rig configuration:
2 Spreader Sets, Keel Stepped.
Section Size 243 mm x 121 mm, Tapered.
Tube Length 20.020m.
Approximate Bare Tube Weight 68.5kg.
Fully dressed weight 170kg.
Southern Spars, two spreader Mast - High modulus upgrade - 22kg weight saving.
Full Titanium upgrade package.
Southern Spars Boom - High modulus upgrade - 9kg weight saving.
Custom Instrument Bracket.
Main Halyard, jib, fractional and mast head zero Lock – cassette.
Carbon C6 standing rigging.
Carbon C6 running backstays.
Southern Spars mast step.
Gorilla headstay foil for use with EC6 Forestay.
Upgraded runner mounting in mast tube, works by Alpha Plus UK to drawings supplied by Southern Spars (SEPT 2016).
Integrated deflector system for backstay and headstay control.
Max working forestay load - 5100kg.
Custom magic wheel from Diverse Yachts to control deflector system.
Custom control system with exit on deck and hand line takeaway.
Adjustable head stay arrangement, with use of Navtec hydraulic system. Harken headstay ram. Custom install to allow for on deck control, but with no pump handle showing.
Complete running rigging package for inshore racing with some spares all Marlow top end PBO pure and PBO/ tech blended lines. Using mostly sk99 max cores throughout.
Running back stay setup 4:1 purchase and mixture of Harken 75 Black Magic and 57mm TTR blocks.
Twin under deck spinnaker sheet reelers in carbon.
Under deck remote spin sheet clutching for working sheets and string drop.
Custom can inhaul system with upgraded CRX jib tracks and cars.
Clutches - SPINLOCK, full spec with ceramic jaw upgrades and lock open clutches for mainsheet.
Protrim mainsheet traveler system.
Underdeck 2/1 or 3/1 downwind jib sheet led aft.
2 x KZ furlers for the Mast head zero and Fractional zero.
2017 mod to spinnaker under deck sheave arrangement by Alpha Plus UK Ltd.
2 x Bowsprit:
Autoclaved carbon fibre bowsprit built by Mc Conaghy with aluminium pignose set up and bobstay standard stl length.
Autoclaved High Modulus Carbon +300 mm length by Green Marine PM by Alpha Plus with 3d printed titanium pignose and rod bobstay, currently on boat.
Both sprits to run 2-1 tackline for zeros. Can be changed very quickly.
Winches:
Custom Lewmar winch and pedestal system - supplied and installed by Diverse Yachts UK.
LEWMAR - 60/3GPST BK ROLLER SB CF WINCH - PRIMARIES x 2.
LEWMAR - 50GPST BK AL WINCH - MAINSHEET x 2.
LEWMAR - 50 GPST BK AL WINCH - PIT x 1.
LEWMAR - 50ST EVO RACE+ ALLOY BLACK WINCH - RUNNER x 2.
LEWMAR - PEDESTAL SYSTEM INCLUDING CUSTOM DIVERSE TAKE DOWN STRING DROP SYSTEM OFF PRIMARY WINCHES.
SPINNAKER TAKE DOWN SYSTEM INCL DRUM & ROLLER UNDER THE FORE HATCH.
NON HYDRAULIC, CUSTOM DEFLECTOR SYSTEM FROM DIVERSE YACHTS.
LEWMAR - 250 ONE TOUCH POWER GRIP WINCH HANDLE x 5.
3 x button control system, with custom clutches on gearboxes to engage primary winches and string drop systems.
Sail, Code, Year, Spec, Dpi:
Mainsail, Mn-A, 2016, 3Di Raw 870, 16800.
Jib, J1.5-A, 2016, 3Di Raw 870, 12600.
Jib, J2-A, 2016, 3Di Raw 870, 16800.
Jib, J2-B, 2016, 3Di Raw 870, 16800.
Jib, J3-A, 2016, 3Di Raw 870, 19600.
Jib, J4-A, 2016, 3Di Raw 870, 22400.
Asymmetric, A1.5-A, 2016, SK60/50.
Asymmetric, A2-A, 2016, SK75/60.
Asymmetric, A2+, 2016, PK 77/66.
Asymmetric, A4-A, 2016, SK130/90.
Asymmetric, MHO-A, 2016, ODL -04.
Asymmetric, FRO-A, 2016, ODL -04.
Staysail, GS-A, 2016, 3DL 860m, 10850.
Staysail, SS-A, 2016, ODL-04.
Mainsail, Mn-B, 2017, 3Di Raw 870, 16800.
Jib, J1.5-B, 2017, 3Di Raw 870, 12600.
Jib, J2-C, 2017, 3Di Raw 870, 16800.
Jib, J3-B, 2017, 3Di Raw 870, 19600.
Asymmetric, A1.5-B, 2017, SK60/50.
Asymmetric, A2-B, 2017, SK75/60.
Asymmetric, A2+-B, 2017, SK80/60.
Asymmetric, A4-B, 2017, SK150/90.
Storm Jib, 2016, Dacron.
General:
Alpha Plus built drop down painted steel shipping cradle.
Covers, Canvas & Cushions:
Full custom covers, bags etc.
Disclaimer
The Company offers the details of this vessel in good faith but cannot guarantee or warrant the accuracy of this information nor warrant the condition of the vessel. A buyer should instruct his agents, or his surveyors, to investigate such details as the buyer desires validated. This vessel is offered subject to prior sale, price change, or withdrawal without notice.