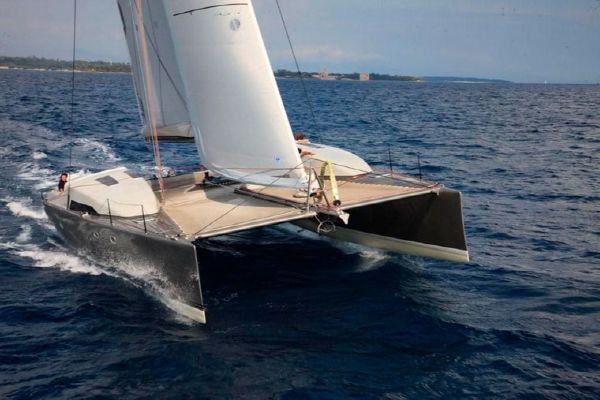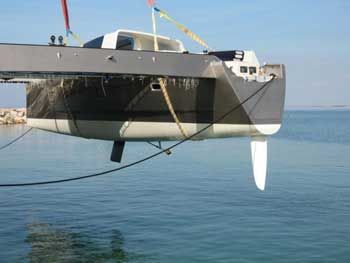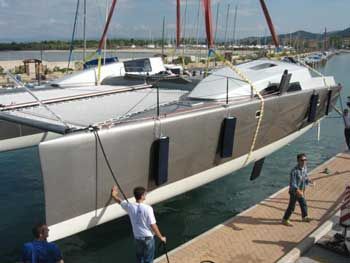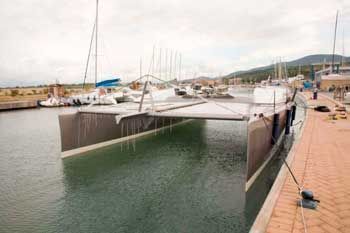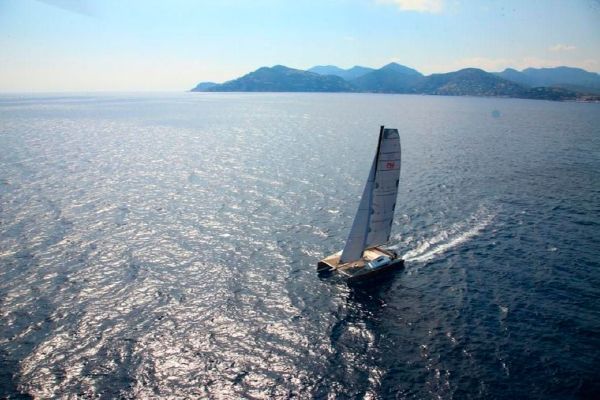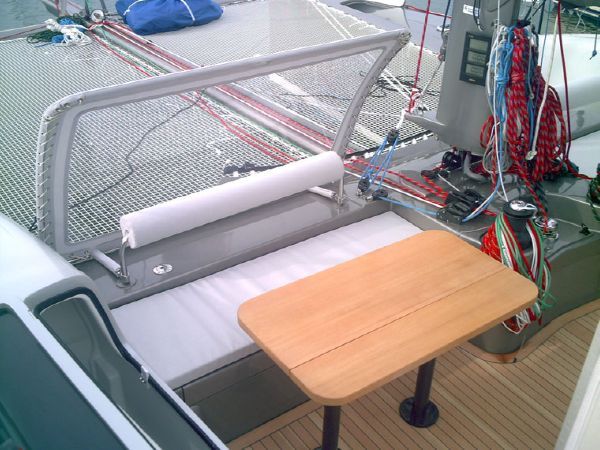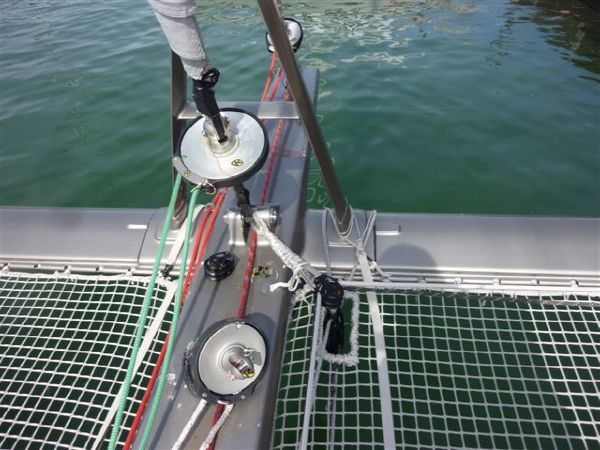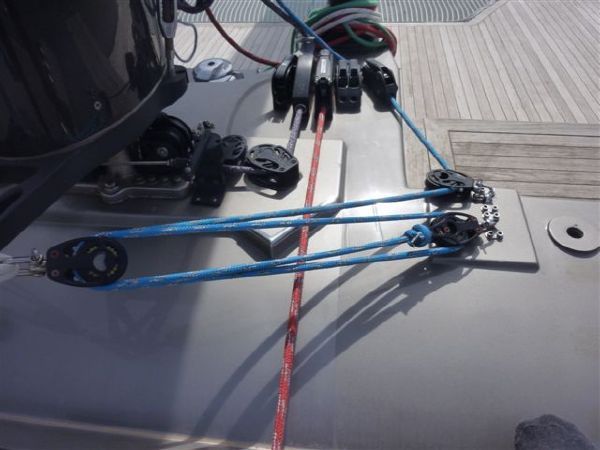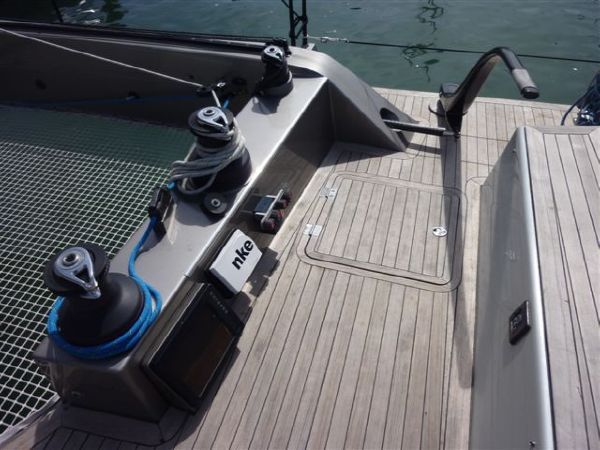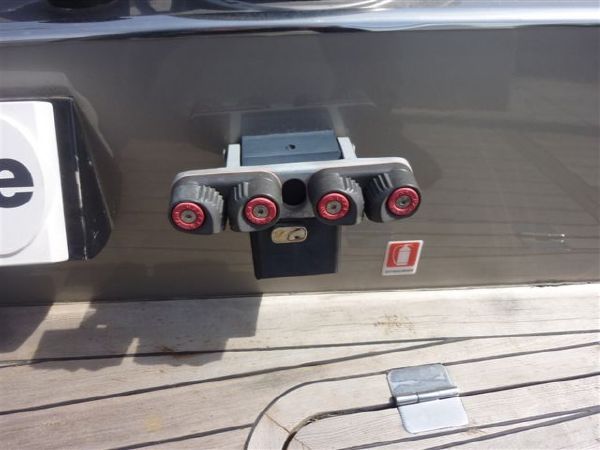 Want to sail at 21 knts with 18 knts of breeze with family crew ? She is the one !
The SIG45 combines speed, innovation and grace, taking advantage of the performance, space and stability advantages of a modern performance multihull, but retaining the aesthetic elegance and ergonomics of a modern monohull.
The SIG45 is extraordinarily easy and enjoyable to sail fast. The ride is smooth, predictable and very comfortable. Modern rig and sail handling systems and extremely ergonomic working areas make sailing a pleasure for a small crew. The pilothouses and coamings provide protection to those on deck and frame a huge cockpit (more commonly found on yachts literally twice the size), which is perfect for sail handling, entertaining or just plain relaxing.
Preis: €825.000
Liegeplatz: Port Grimaud, Frankreich
Jahr: 2009

| | |
| --- | --- |
| Eigenschaft | Werte |
| Rumpfmaterial | Komposit |
| Länge | 13.72 m |
Deck Layout

HUGE COCKPIT ENTIRELY FREE OF ROPES
The SIG45 has a vast cockpit between the main and aft beams with a surface of nearly 40 square metres (400sqft). There are no sheets or other lines crossing this area. It is protected on all sides by coamings and / or lifelines at least 65cm high, creating a great area for both families and racing crews.
CREW PROTECTION
The twin helmstations are situated aft, well protected by the pilothouses and coamings (inspired by Bruno Peyron's Orange 2). Even at speeds well in excess of 20 knots, the SIG45 is very dry. The aft helmstations provide excellent line of sight steering and keep the helmsman and sail trimmers close for good communication (and social interaction!). The three Harken sail trimming winches for mainsheet, traveller and headsails are within easy reach of the helmsman. The beautiful clear coat carbon tillers provide optimum feel, light weight and reliability.
PRATICAL WORKING AREAS
Halyards, main- and head-sail reefing lines, mast rotation, cunningham, and daggerboards are controlled via a bank of Spinlock clutches and two Harken winches from the winch island at the base of mast. The windlass and anchor chain are also located hear to keep weight well centred.
specs

Design team:
Van Peteghem Lauriot Prevost
Bjorn Johansson
LOA: 13.70m
LWL: 13.70m
Beam: 8.40m
Displacement: 5.5 T
Mast: 23m rotating carbon from Hall Spar (and boom)
Mast area: 9m²
PBO haidstay
Main sail: 94m² North 3DL
Self tacking jib: 43m² North 3DL
Gennaker: 100m²
Asymmetric: 150m²
Code 0 North
Furling staysail
Stormjib
Engines: 2 x 29 HP Yanmar, shaft propeller
Tanks:
Fuel: 2 X 100lt
Fresh Water: 2 X 150 lt
Black and grey water tanks
Navigation:
Full NKE Sailing Instruments with Port and starboard mast readout
NKE Gyro-Auto Pilot with units at nav station and cockpits
Furuno Radar and GPS Chart Plotter 1824C
Port and Starboard on deck waterproof monitorts with remote mouse for radar, chart plotter even DVDs
ACS Anti-capsize system one controller with 2 release units (one each stbd and port). Releases Mainsail and Foresail based on user preset boat heel and pitch angles
Maxsea
High quality integrated 3-zone sound system, with Sonos control system, media server, LCD TV in nav station.
VHF radio in nav station and repeater at helm station.
Avis de non-responsabilité
La société offre les informations relatives à ce navire de bonne foi mais n'est pas en mesure de garantir l'exactitude de ces informations ni l'état du navire. Il revient à l'acheteur d'instruire ses agents ou ses experts afin de vérifier et de faire valider les informations de son choix. Ce navire est offert sous réserve d'une vente préalable
Additional Contact Information

Call Pierre for more details: + 33 66 22 33 9 33
video: http://www.youtube.com/watch?v=7FBxlKpVAgs