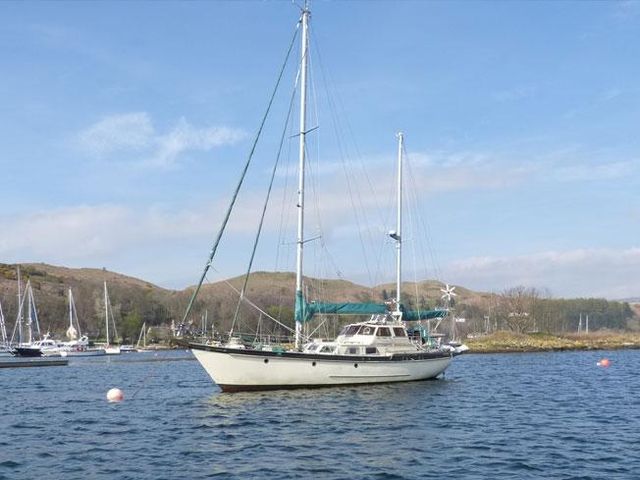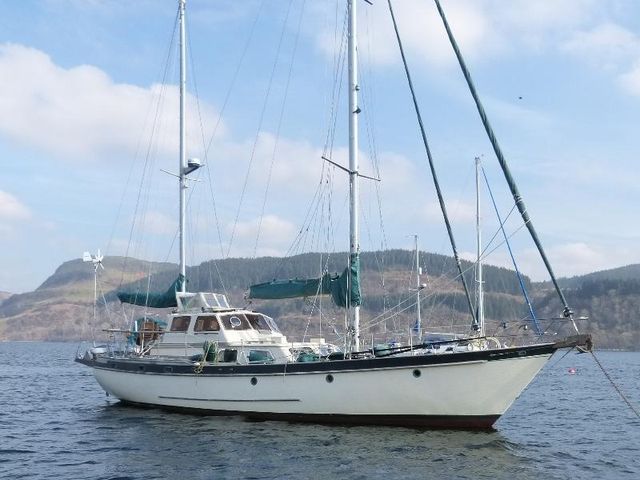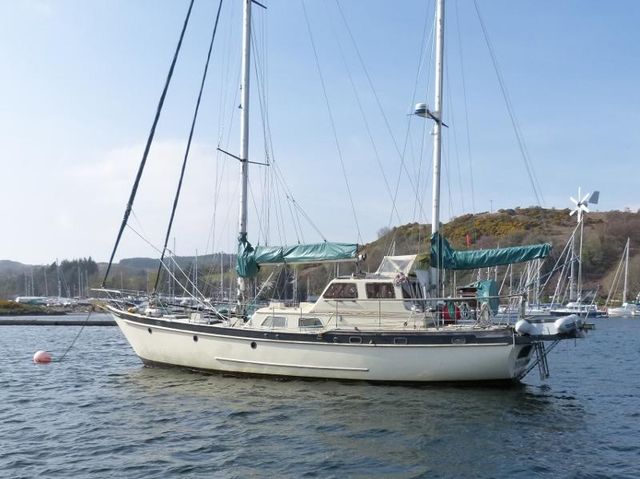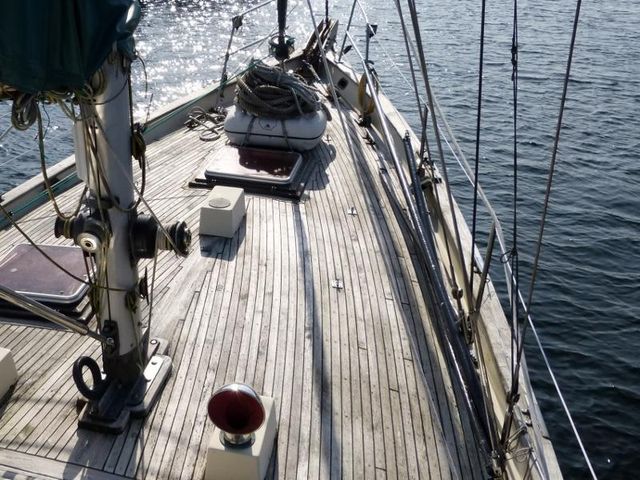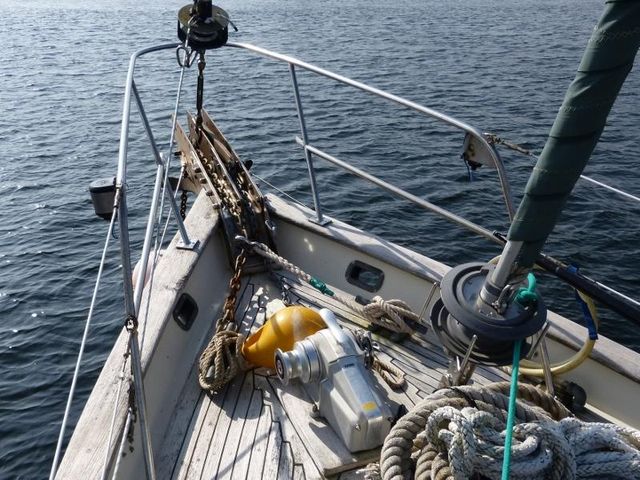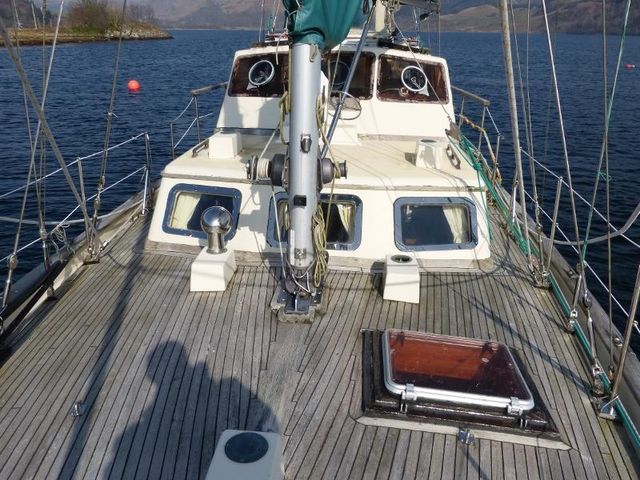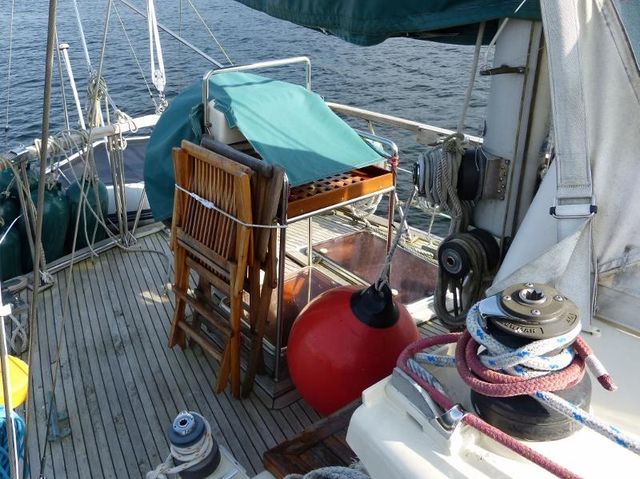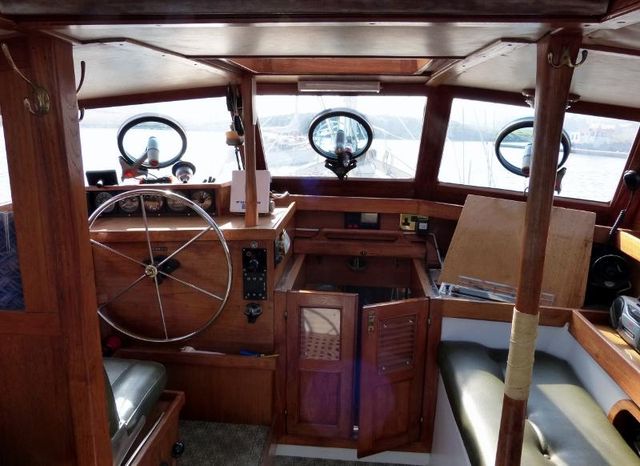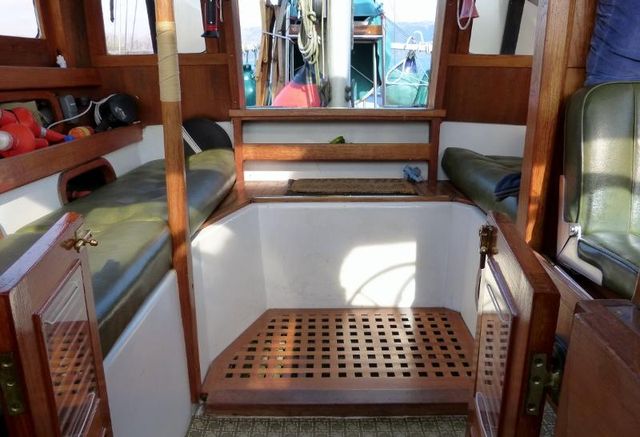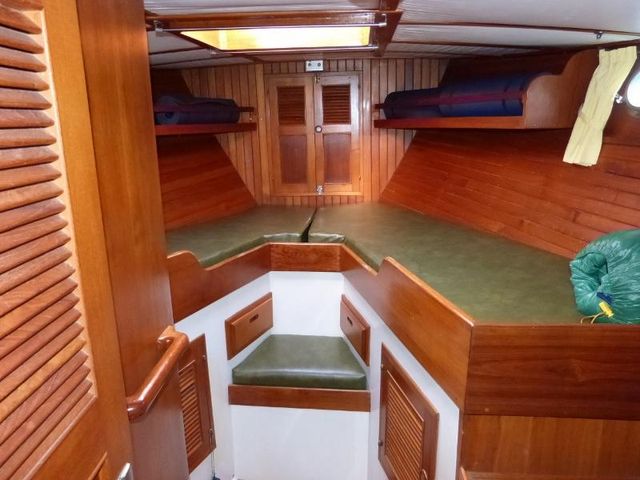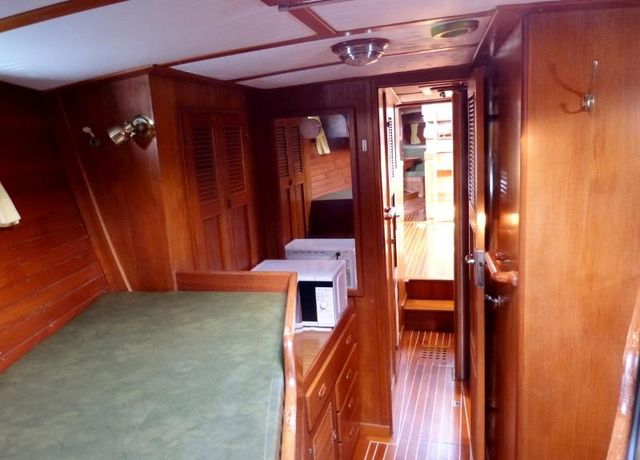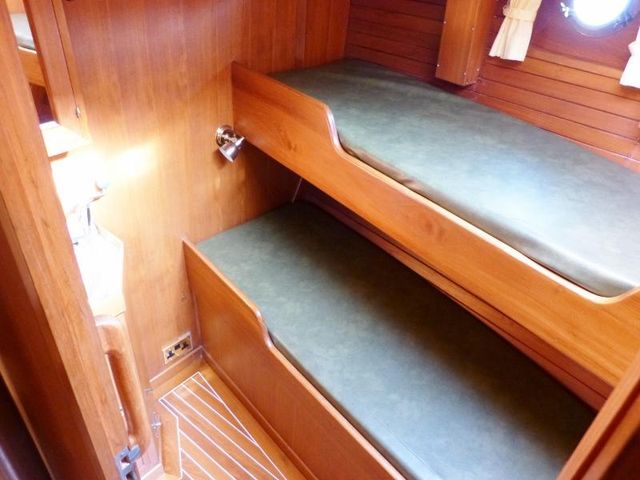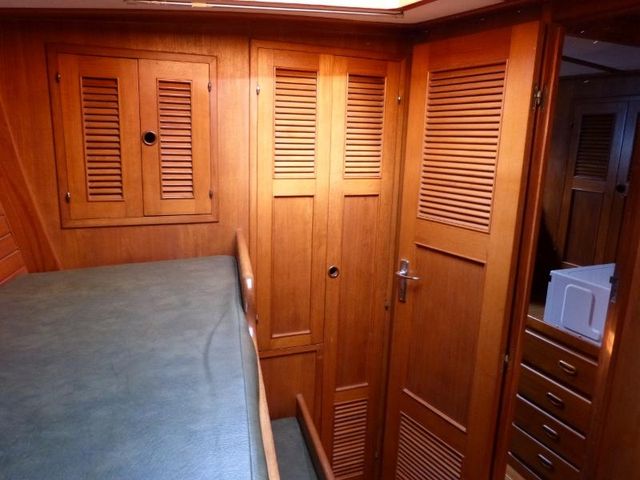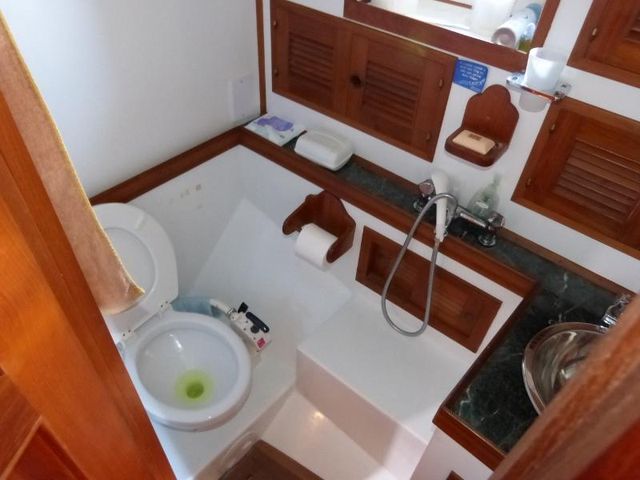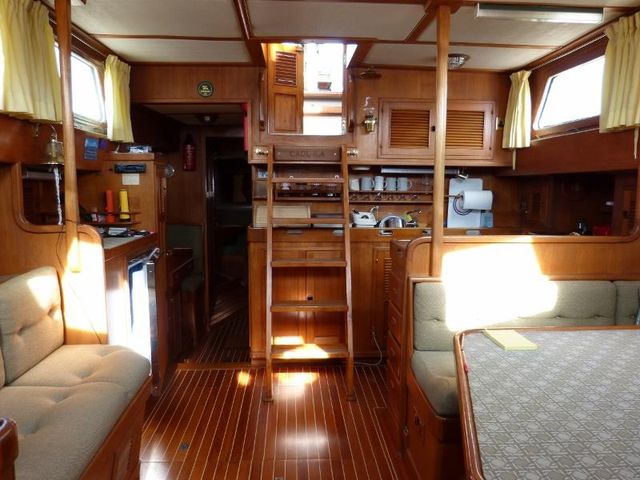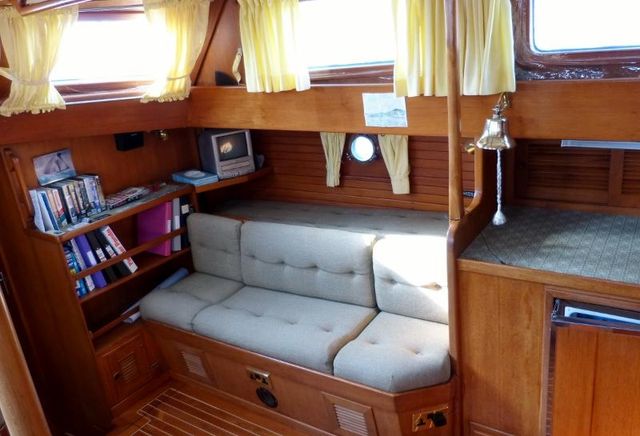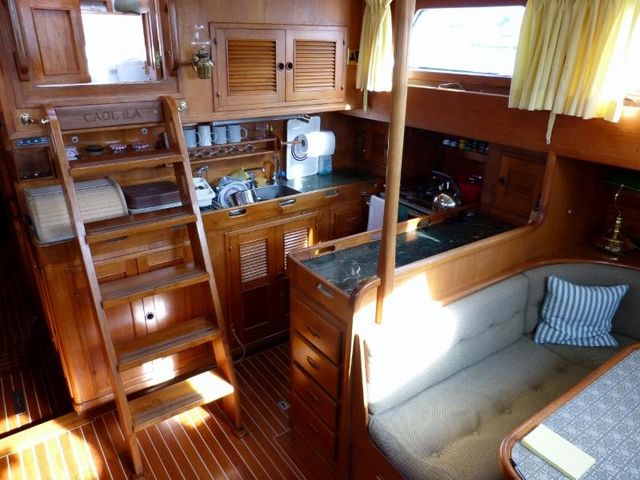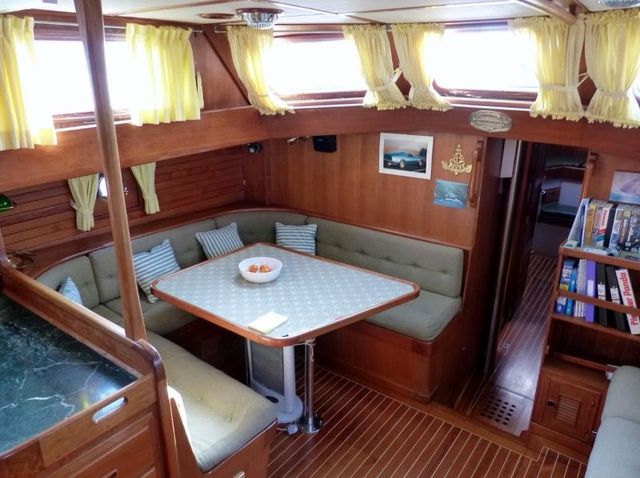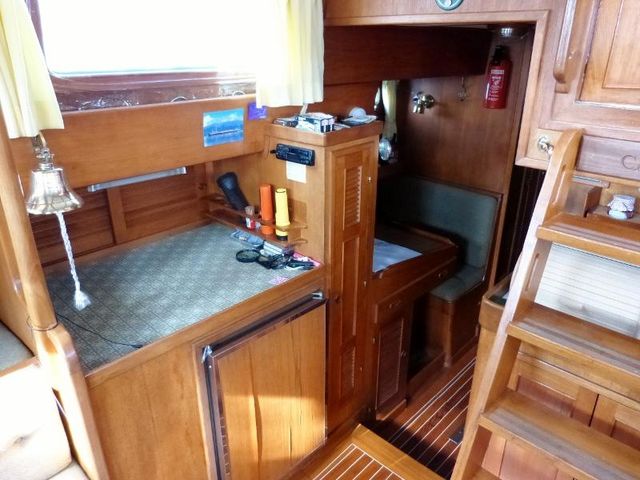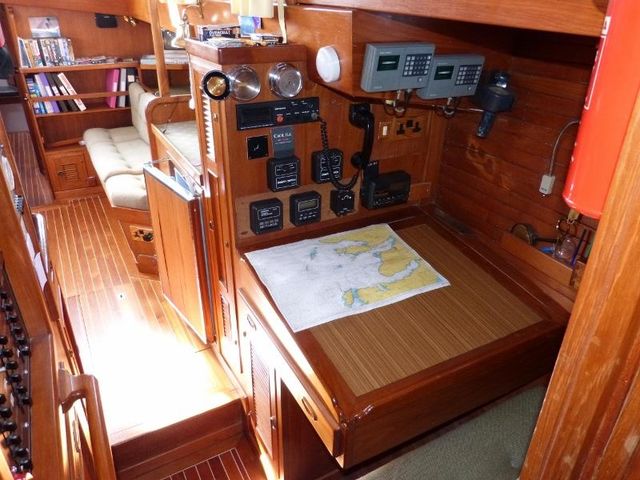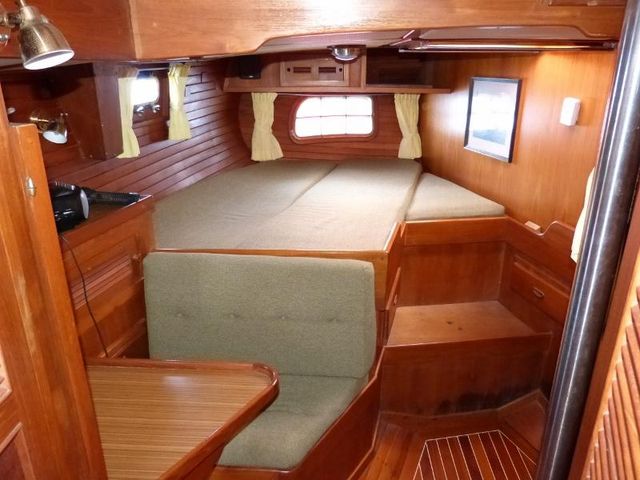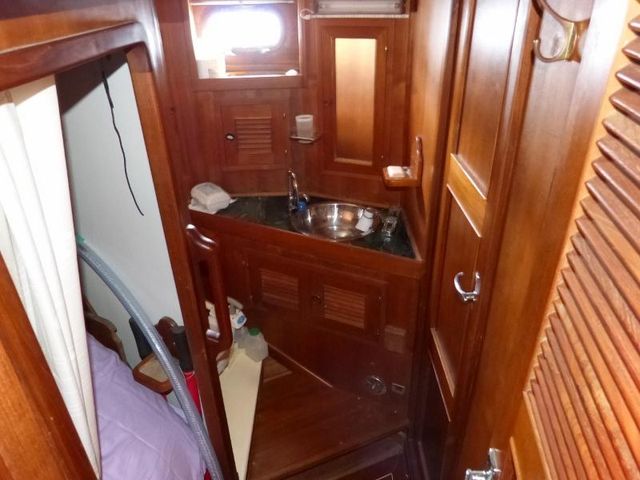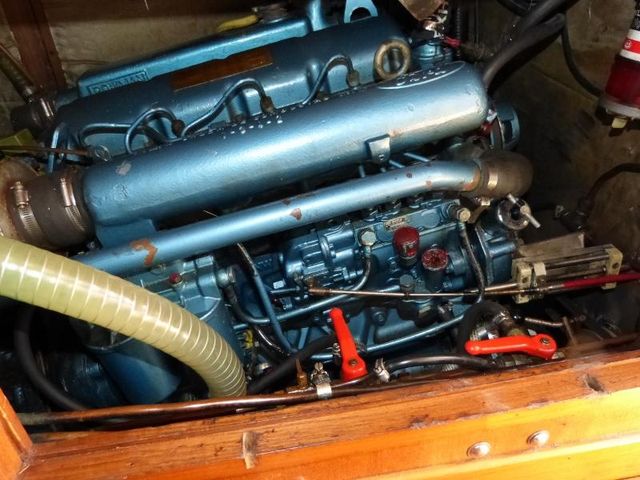 With a production run of over 25 years more than 60 of the Transpac 49 hulls were launched. CAOL ILA is a nicely presented example of the class which has been sensibly upgraded. Offering comfortable and spacious accommodation for a crew of eight they are popular with blue water cruisers and those looking to liveaboard; examples can be found around the globe.
CAOL ILA has been modified from the standard design with a professionally fabricated alloy wheehouse fitted to create a full internal wheel house and deck level seating, ideal for setting off to explore in colder waters. Built of the finest materials the boat is in very good condition below decks and offers an ideal base to create your perfect high latitude cruiser.
Lying afloat and in commission here at Ardfern viewing is by appointment.
Preis: €107.498
Liegeplatz: Vereinigtes Königreich
Jahr: 1979

| | |
| --- | --- |
| Eigenschaft | Werte |
| Hersteller | Transpacific Marine Co. |
| Konstrukteur | George Duke |
| Rumpfmaterial | GFK (Fiberglass) |
| Länge | 14.96 m |
| Breite | 4.14 m |
| Verdrängung | 19,504 kg |
| Max Tiefgang | 2.01 m |
| Anzahl Motoren | 1 |
| Motorfabrikat | Ford |
| Motormodell | C-Power |
| Motorjahr | 1990 |
| Treibstoff | Diesel |
| Motorisierung | Innenbord |
| Betriebsstunden | 4370 |
| Treibstofftank | 795 l |
| Wassertank | 1,135 l |
| Bootsname | Caol Ila |
| Top Speed | 9.21 km/h |
| Leistung | 66.19 kW |
| LüA | 14.96 m |
Construction

The Transpac 49 was produced in Taiwan by Transpacific Marine in a traditional style using the finest quality teak to finish the substantially built GRP mouldings.
The hull, deck and coachroof are constructed of heavy weight traditional GRP mouldings with a simulated carvel planking style finish in the topsides. The pilothouse super structure is professionally fabricated from marine grade aluminium plate and finished with trims in-keeping with the rest of the boat to a high standard. The hull is finished with high quality teak rubbing strakes at both the shearband and pontoon level. On deck the GRP moulding has been overlaid with teak decking. A solid teak taff rail finishes off the aft end of the vessel in a traditional style.
The hull and superstructure are now finished in a two pack paint above the waterline, off white in colour with a rich green colour for the sheerband and boot topping.
Below the waterline the hull is of a traditional shape with a full long keel and skeg hung rudder. A full length stainless steel shoe has been fitted to the keel externally providing protection to the keel if beaching the boat and adding an additional 350kg of ballast.
Spars and Rigging

Masthead cutter-rigged ketch
Slab reefing main and mizzen
Roller furling for genoa and staysail
Rod kicker for main boom.

Composite Whisker Pole.
Designed as a masthead ketch rigged the boat was modified in 1991 to a cutter-rigged masthead ketch providing a more versatile sail plan for long distance offshore cruising. Both masts are deck stepped with all spars of anodised alloy construction with cast alloy end fittings. All standing rigging is of 1x19 stainless steel construction with roll swaged terminals.
Winches
Halyard Winches - Main Mast
1x Lewmar 44, 2 speed
1x Gibb 40, 2 speed
1x Lewmar 8, 1 speed
Halyard Winches - Mizzen Mast
1x Lewmar 43, 2 speed
1x Lewmar 40, 2 speed
1x Gibb, 1 speed
Primary Winches
2x Barton 32, 2 speed
1x Barton 25, 2 speed
1x Barton 24, 2 speed
Mainsail Sheet
Sails and Canvas Work

Mainsail - Slab reefing. Nicholson Hughes.
Mizzen - Slab reefing
Genoa - Roller reefing. Alpha Sails
Staysail - Roller reefing. Forth Marine Textiles.
High Cut Genoa - Never taken out of bag by current vendor.

Mizzen Staysail - Not used in current ownership.
Canvas Work
Mainsail Cover - Stackpack type cover with separate mast boot. Green canvass with lazy jacks.
Mizzen Cover - Conventional style. Green canvass.
Sprayhood - Small hood in way of pilothouse companionway.
Spray Dodgers - White
Ground and Mooring Tackle

Main Anchor - 30kg Bruce on 10mm chain rode, approximately 120m in length.
Kedge Anchor - 45lb CQR
Windlass - Lofrans Tigres electric windlass with handheld controller.
Mooring Warps - Selection of both summer and winter lines.
Fenders - Selection of sizes and types.
Deck Wash - Engine driven pump system.
On Deck

A traditional teak laid deck covers the whole deck area. Around the edge of the deck a moulded GRP toerail stands proud of the deck with bronze panama type fairleads in way of all mooring cleats topped with a substantial teak capping rail.
Forward of the mast step the deck is largely unobstructed with only minimal up stands for deck hatches and dorade boxes breaking up the vast open deck space. A stout stainless steel stemhead fitting provides twin bow rollers forward with the electric Lofrans Tigres windlass. The deck stepped main mast located at the forward end of the deck house is readily accessible from deck.
With chainplates located forward of the deck house the side decks are clear of obstruction for crew moving forward or aft. Timber grabrails are provided on both the deck house and wheelhouse roofs.
The aft deck has the external helm position located centrally with binnacle and fixed teak table extending forward. Sheet and mainsheet winches are located immediately aft of the deck house. A large lazzarette locker is provided under the aft deck on the portside and accessed through a deck hatch. The locker provides ample storage for all mooring and anchoring and mooring equipment.
A small elevated bathing platform has been fitted to the transom and has been built of a suitable strength to provide storage for a small RIB type tender if required. Decked with teak grating panels a hatch is provided to allow use of the transom mounted boarding ladder.
Navigation Electronics

Depth Sounder - B&G Hercules System 190
Log - B&G Hercules System 190
Wind - B&G Hercules System 190
Radar - Furuno 1621.
GPS - Garmin Etrex
VHF - Icom IC-M411. Icom IC-M31 handheld also.
Autopilot - Autohelm ST7000 system with hydraulic drive.
Also aboard the vessel however no longer functional are the original RT660 VHF unit and Navstar 2000 Navtex.
Electrical Equipment

Generator - Fischer Panda Marine 4kW. Mounted in work space. Fitted 2006
Shore Power System - Hardwired with RCD protection.
Wind Generator - Aero4Gen with dump resistor system. Mounted on pole aft.
Solar Panel - 2 off Solarex MSX18 panels.
Battery Charger - Sterling Pro-Charge D. 4-step switch-mode charger.
Voltage Displays - Read-outs for all banks.
Amperage Discharge Meter
Domestic Equipment

Cooker - Kenyon Marine model 640 gas cooker. 3 burner and oven.
Microwave Oven
Fridge - Engel dual voltage 240/12
240v Toaster
Pressurised Water System - Engine fed calorifier (Sigmar Marine) with 240V immersion heater providing hot water. Faucets provided in both heads and galley.
Heating - 240V fan type heaters.
Dehumidifier - Mobile type by XM Yachting.
Below Decks

Stepping inside the wheelhouse the extensive use of teak and polished brass fittings immediately give the interior a classic yacht feel. The elevated wheelhouse has a commanding view around the whole boat with excellent vision forward. The dedicated helmsman's position is forward to port with bench seating for crew provided aft of the helm and along the starboard side. Access below decks is via the original companionway.
Evidently throughout her life CAOL ILA has been very well looked after and lightly used. Built from the finest teak the interior joinery work is in excellent condition for the age of the boat. At the forward end of the living space a large forward cabin provides two large single bunks in a traditional V-berth layout. Within the cabin a good volume and variety of storage is provided with overhead shelves outboard, lockers beneath each bunk and a dresser unit at the aft end of the cabin with additional drawers and lockers.
From the passageway aft to the main saloon area a bunk cabin is provided to port with two well proportioned single bunks. The cabin is appointed with its own small basin and mirror. A storage unit is located at the forward end of the cabin with a selection of lockers.
Opposite the bunk cabin is the forward heads compartment appointed with manual sea toilet, shower, sink and vanity lockers. The whole compartment is finished in a white moulding with varnished teak trim and a marble worktop.
The raised deck house portlights provide lots of natural light into the midships area of the accommodations where the saloon and galley are located in an open plan type layout. At the forward end of the space a large saloon table is provided with wrap around u-shaped settee. Opposite along the starboard side a bench type settee provides additional seating and serves as a generously sized occasional berth when required. Outboard of the settee an elevated compact pilot berth is provided.
Located at the aft end of the saloon space the galley is on the port side of the companionway in a U-shape. A large area of marble work surface is provided around the galley, fitted with substantial teak fiddles; the cooker at the outboard end. The galley is appointed with double stainless steel sink, gas cooker and a large selection of drawers and cupboards, crockery and cutlery is included within the the inventory. Opposite the galley and forward of the nav-station is an additional small work area with below counter, front loading fridge and additional area of worktop, drinks cabinet and additional coolbox.
Off the starboard side of the passageway to the aft cabin is the dedicated navigation station with a large chart table and dedicated navigators seat. Repeaters for the instrumentation provide the navigator with all required data from the boats instrument system. Storage is provided within the table for charts and general bosun's gear a large bin locker is beneath the seat. The ships main switch panel is located opposite the nav-station in the passageway.
The palatial aft cabin is a grand addition to a boat of this size and provides comfortable accommodations for two. Appointed with a large double bunk, writing desk, built in seating and en-suite heads. Again a good selection of storage is provided throughout the cabin. The en-suite aft heads is appointed in the same fashion as the cabin with a marble worktop and separate shower compartment.
Accessible through the aft heads is the workshop space with additional engine access. The compartment provides a large space for storage of tools and spares with a small workbench and vice.
General Equipment

Bow Thruster - 3kW Vetus electric thruster.
Tank Tender Gauge System - Connected to all 4 fuel and F/W tanks.
Manual Bilge Pump - One located in pilothouse and one located in passageway to aft cabin.
Electric Bilge Pump - One automatic with float switch. One manually switched.
Boarding Ladder - De-mountable for use at either guardwire gate. Fixed ladder on transom.
Tender - WavEco 2.25m, very little use.
Outboard - Honda 2.2hp fourstroke, very little use.
Safety Equipment

Liferaft - Beaufort 6 Person, mounted on foredeck.
Raymarine LifeTag System - Base station in wheelhouse.
Danbuoy
Horseshoe Lifebuoy - 2 off
Engine and Sterngear

Ford C-power. 4 cylinder, naturally aspirated diesel engine rated at 90hp. Fitted new 1990, removed and full factory reconditioned 2000.
4370 Running hours
PRM 302 hydraulic gearbox. Traditional shaft type sterngear.
3 Blade Bronze Propellor. Fixed blades, 20x16, new 2015.
Ships Batteries
6 off 12v Lead acid type.
Owner's Comment

CAOL ILA has been an absolute joy to own over the last 10 year despite the skipper being out of action for an extended period after major surgery. Having wandered the West Coast of Scotland, enjoying the spectacular mix of weather the yacht has proved a comfortable and secure home on the water. The large pilot house is a particular benefit in this climate providing the ability to maintain a watch in comfort regardless of the weather, on one occasion during a Force 8 gale with snow and driving hail.
However advancing years on part of the skipper have necessitated a reluctant move from sail power to diesel power and CAOL ILA is now looking for a new appreciative owner.